(Last Updated On: September 21, 2022)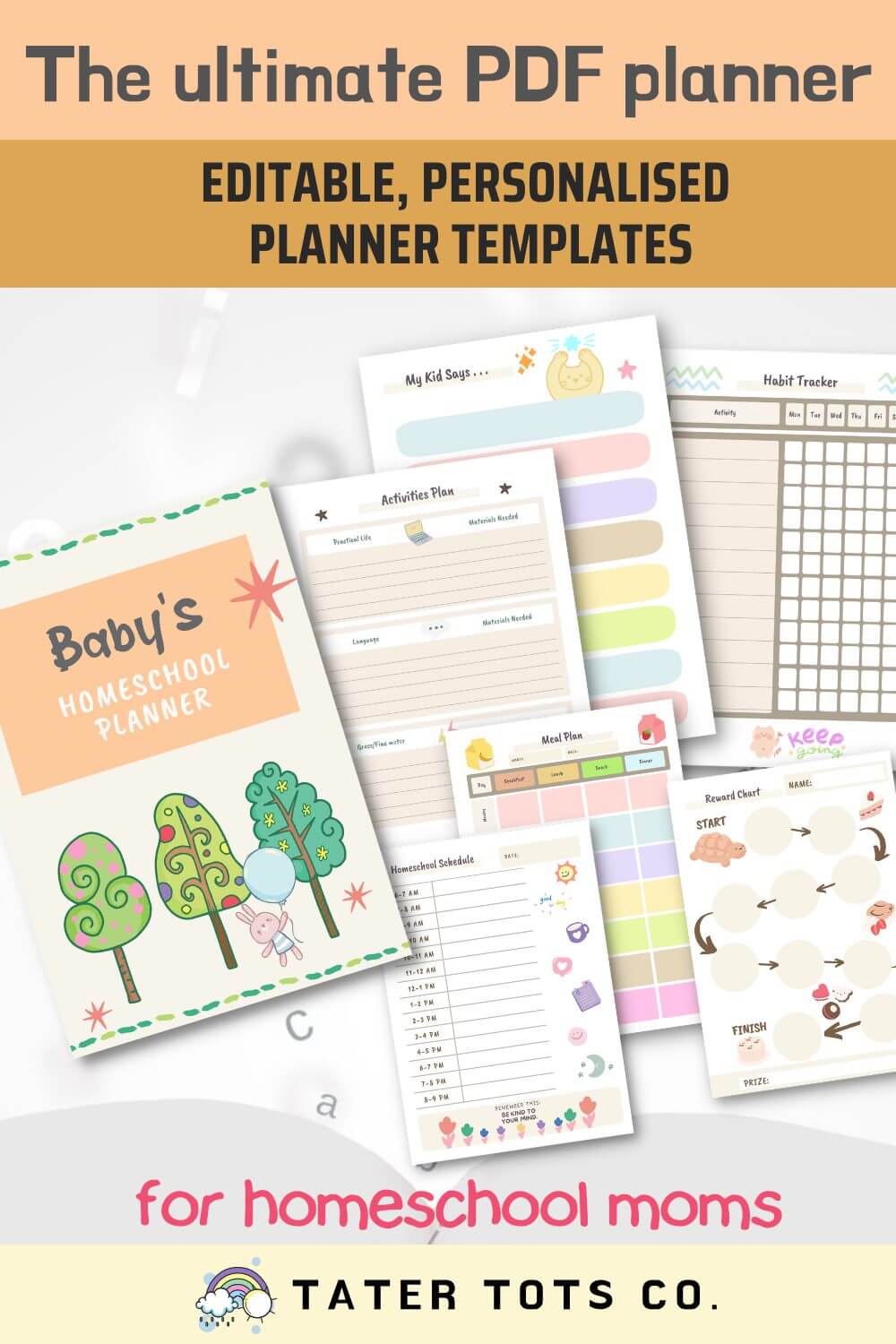 The ultimate homeschool planner that covers all that you need for preschool homeschooling moms
Introduction
If you're a homeschool mom or planning to home school your preschooler then you will certainly need a good homeschool planner to sort out all the nitty-gritty details of homeschooling.
From monthly, weekly, daily schedules and planners to timetables, meal plans, activity planners, trackers, and checklists. This Editable PDF planner has everything you will need to take care of the active little one, keeping your day on track. It is a complete, detailed and a comprehensive planner suitable for children from pre-k levels and above.
Related Article: All in one preschool preparatory pack
Why do you need a homeschool planner?
Any mom who has homeschooled their child will know how difficult it is to manage time. Time slips away easily in the hands of active children who have little care of your plans and who just want to play all day long. With young children, last minute surprises are frequent and to be expected. It is also hard to get things done without a firm plan.
Thus, it is important to plan out time to homeschool so that children can benefit from daily learning. It will help to manage unexpected situations while ensuring your child is learning at a steady pace.
Furthermore, it helps you to visualize the day ahead thereby reducing stress knowing that your daily affairs are in order. You can focus more on your child's need when you are well prepared!
Highlights of the Homeschool Planner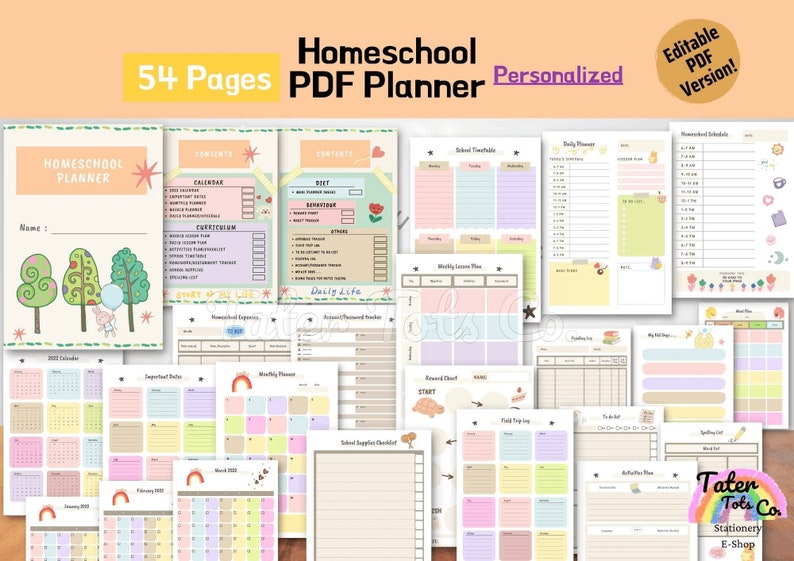 Total of 54 pages (for default), 37 pages (for editable version) from calendars, monthly, weekly down to daily planning schedule templates
Focused on preschool, toddler levels including a weekly meal planner, habit tracker, activities planner, expenses, school supplies tracking list, and a "My Kid Says" section whereby you'll be able to note down milestone words your little one says!
Many other templates are included that can be used for kids of any age – including reward chart for kids, spelling word list, homework/assignment tracker.
5 Unique (lined and unlined) Notetaking pages for writing notes, observations, and blank spaces for drawing
Editable PDF version (with free Adobe Acrobat Reader)
– Able to personalize the Cover page with you or your child's name
– Personalized templates (Homeschool Schedule, Reward Chart, My Kid Says sections)
– Bookmark tabs that will automatically be displayed upon opening the PDF file so you will be able to jump to different sections of the planner
Sweet, pastel, rainbow, colorful design
List of Templates
2022-2024 calendar overview
Important Dates
Monthly planner Template 1
Monthly planner Template 2
Weekly planner
Daily Planner
Homeschool Schedule
Weekly Lesson Plan
Daily Lesson Plan
Activities Plan (3 pages)
Activities Checklist
School Timetable
Assignment Tracker
Homework Tracker
School Supplies Checklist
Spelling Wordlist
Meal plan (weekly)
Reward Chart
Habit Tracker
Homeschool Expenses
Field Trip Log
To do/not-to-do list
Reading Log
Account Password Tracker
My Kid Says . . .
Notes (5 unlined pages) + 5 lined pages (for default version)
How to use the Homeschool Planner?
Hard copy Planner
Print out all pages.
For undated monthly, weekly or daily planners, print as many copies as you need.
You can bind or file them for use.
Editable PDF planner
The editable PDF version is meant for editing the templates and printing them out for use. The PDF has been indexed bookmark for easy navigation to sections and pages. You can duplicate pages in the PDF and it will not affect the hyperlinked bookmarks.
Individual planner inserts
Already have a planning binder or diary? You can use the templates as planner inserts as and when you wish to add in extra pages to write notes.
To be displayed
Our templates are poster friendly and can be used as wall decorations for kids! Templates such as Reward Chart, Meal Plans, Lesson Plans can be printed out in A4 size portrait and displayed in your child's room for easy reference.
Other Homeschool Planners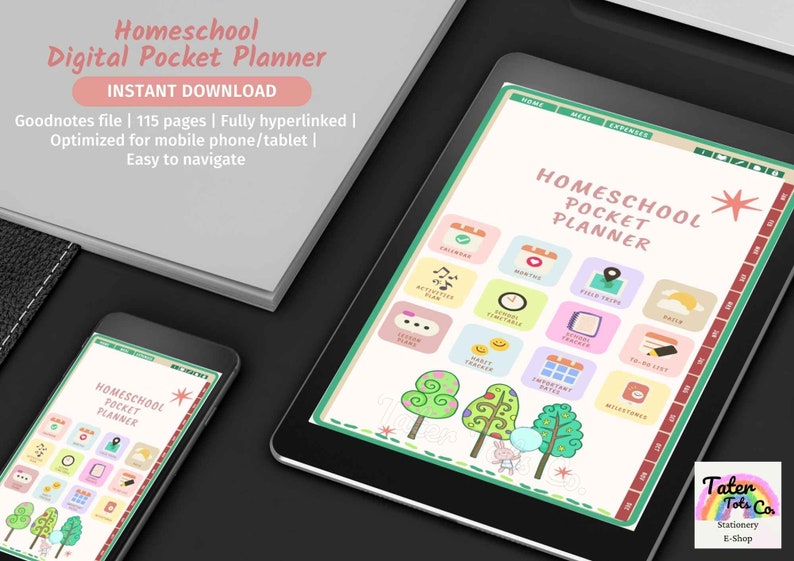 Conclusion
This PDF planner is intended to be a printable to be printed out and display or as planner pages. However unlike digital planners like GoodNotes and OneNote planners
If you like to use digital planners like GoodNotes and OneNote, these are great too. But not everybody may be used to using a digital planner and prefer printed planners.
This planner is a PDF printable planner template. It is not meant to be used as a digital planner insert or as a digital planner on its own.
As a homeschool mom do you prefer to use digital planners or hard copy ones? Share your thoughts in the comments below!
Related Article:
To download a free all all in one preschool prep pack, be sure to check out the article here.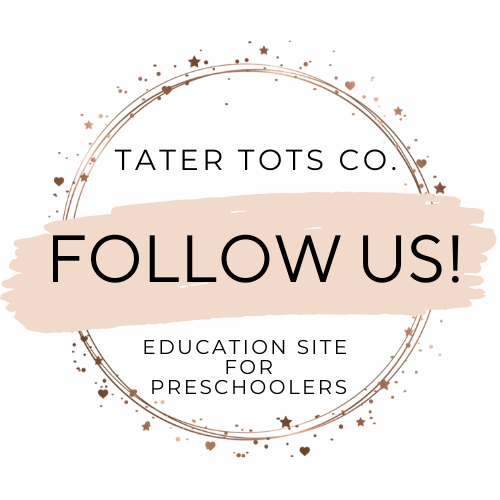 Follow us on Facebook/Pinterest for latest blog updates, freebies and Ukulele printables.
Warmest Regards,