(Last Updated On: September 1, 2023)
All in one preschool preparatory pack (free download)
Introduction
In this blog post, you can download the All in one preschool prep pack (free download) when you subscribe to our newsletter.
As parents most of the time we need to be resourceful, creative, and possibly optimistic. There's a pandemic going on and anytime school may just close or some unexpected disruption occurs… If that happens and there are no other means of childcare available, best be prepared and plan your days ahead.
The last thing you want to stress out is staying at home with your kids driving you up the wall while you're working from home.
Okay, we've probably all been there and gone through it but better planning will definitely make your days ahead less painful.
Related Article: The ultimate homeschool planner that covers all that you need for preschool homeschooling moms
Terms of Use
You can use this All-in-one preschool preparatory pack for personal or classroom use but please do not distribute the pack, instead link others to our website to download the pack. Read more in our Terms of Use section.
The great thing about printable/digital/soft copy documents is that they can be reused many times and are not to mention eco-friendly. Below we also share some tips on how you can use the All in one preschool preparatory pack. Read on to see where you can download a FREE digital planner for OneNote or GoodNotes by Happy Downloads and how it can be "integrated" with any of your schedules.
We also offer some of our own homeschool planners below which have been carefully curated and designed to help homeschooling moms.
How ready is your child for preschool?
By observing how your child interacts, plays, copes, and behaves compared to other similar-aged children you will be able to do a rough comparison on whether your child is ready. A preschool teacher on the other hand may also be able to assess your child's readiness for preschool. Extremely important to note that there isn't an exact criterion to be fully ready for preschool as every child develops at different rates. They also have their own strengths and weaknesses.
Readiness is determined by understanding your child and determining whether you think they will be able to cope in preschool. Since birth, your child would have accumulated various skills and should have some level of emotional, social, physical, and cognitive skills.
Many preschools nowadays introduce lots of curricula, frameworks, and programs. Many of these programs usually come with a set of themes and all the activities are laid out day by day, to be followed in a certain sequence. Frequently, they get put aside when it becomes too much effort to follow or life gets in the way. Preschool should not be rigid and neither should the time at home with your child be.
What can your child learn from preschool?
Disclaimer: This list above is just a general and basic guide derived from researching various resources however it's totally OK if your child is not prepared for any of these skills. As already mentioned, every child has different learning speeds and they will ultimately learn these skills when they go to school.
Whether or not your child is in preschool, you can use the below checklist for your own reference.
What to prepare for preschool?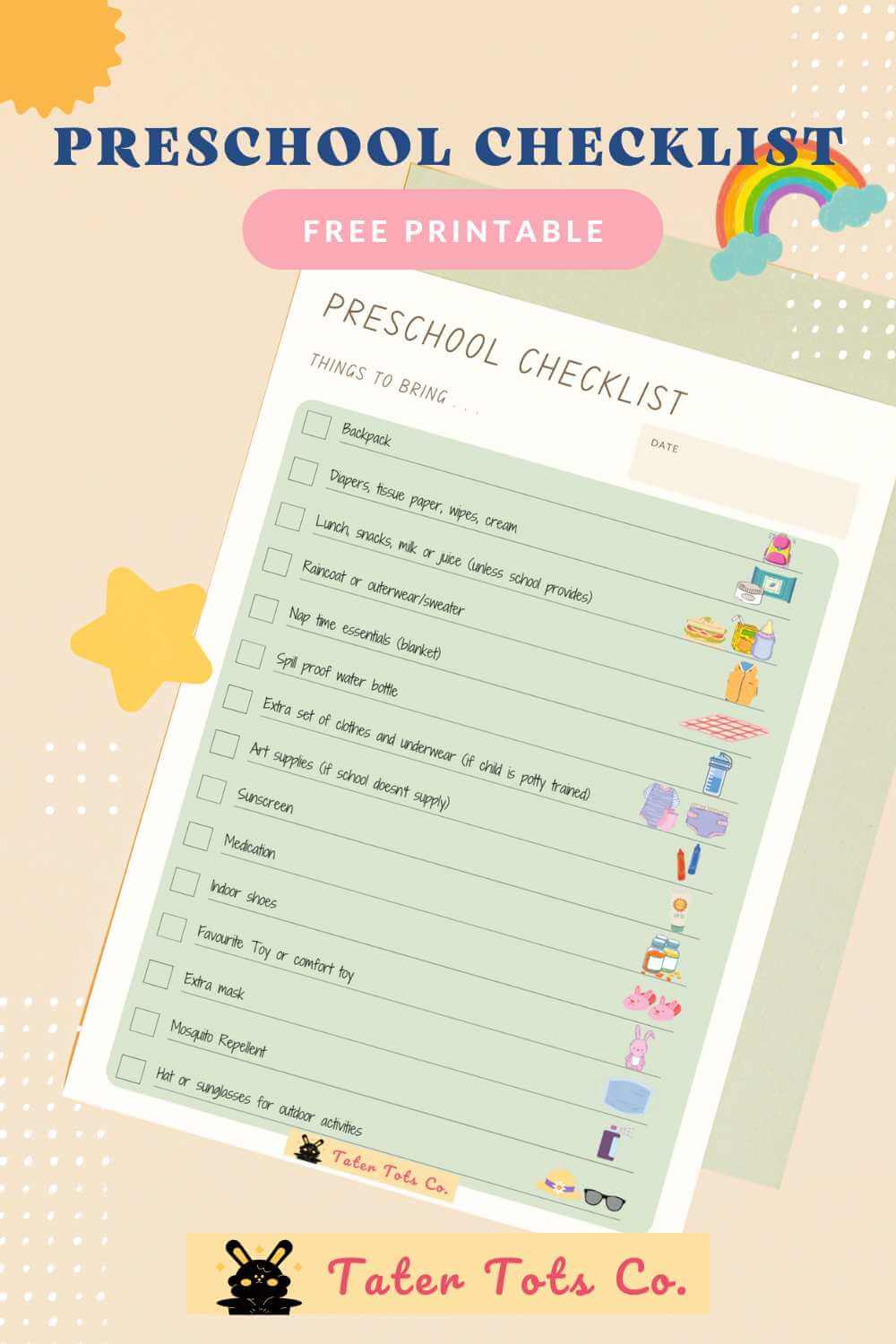 Whether it's daycare, childcare, or preschool (nursery or kindergarten), here's a checklist of the items you may be packing for the first day of preschool. This is a free editable printable template checklist for download below. Either print it directly to write notes on or you can use Adobe PDF Acrobat Reader DC (paid)/Libre Office (free to install and download) to edit on your own. Refer to the guide below on how to use Libre Office offline to edit the printable.
For a short preparatory guide for kids on the first day of preschool, we have created the following 3 part short video on The First Day of Preschool for a visual aid of what to prepare before the first day of preschool. We do recommend that you check out our InspireMyTot section for similar video content.
All About Me Activity Worksheet
This free printable All About Me printable can be used in a number of ways,
Use as a keepsake or souvenir
Keep in a toddler's activity/memory scrapbook
Use as an icebreaker activity in a classroom setting or Show and Tell – Back To School activity
Simply pin it up or use it as a poster in a child's room
Daily Routine Schedule Template
Why do you need a daily schedule template?
Whether it's for preschool or homeschooling. Or whether you are a parent, childminder, or even teacher. You definitely need to effectively plan your day. It's a quick and easy way to help you support children as they become comfortable and confident in their environment. Young children thrive on routine and implement a simple routine that will keep their space consistent and engaging.
Prepare your child's expectations and avoid surprises. Maintaining a routine in your role will keep you organized and sane while you juggle your other tasks like housework and work from home better.
Suggestions on how to use the template
If school is out, use this as a preschool daily schedule or game plan at home. You need to keep the little one entertained at home and the best way is to plan your day to avoid surprises and tantrums or difficult situations.
Additional tip #1: When planning activities especially Teaching and learning ones with young kids be mindful to stay practical and realistic. Sometimes it's just not possible to overload them with so much teaching as they are not going to sit still there for more than a couple of minutes. In my experience with my child, about 30 minutes of Teaching and learning is sufficient per day due to the low focus level which is common with kids their age. The rest of the activities should be fun stuff like Arts & crafts, playing with toys/games, and even coloring or scissors cutting, etc.
Play is in our opinion the most important activity for your child's overall development. Your child should have enough opportunities to engage in all kinds of play. Set aside time for free play and adult-guided activities.
Even if you're not using this template for your child's routine you can use it for your own routine to give yourself a boost, stay organized and on task.

How to "integrate" the All in one preschool preparatory pack with OneNote or GoodNotes
Additional tip #2: If you have a digital planner using OneNote or GoodNotes – attach the PDF document there in your daily calendar planner so you can easily access it if you don't want to print it out.
Here's where you can download a free Digital calendar planner from Happy Downloads. They also offer other designs on their site. The instructions are provided in the link on how you can load the planner and start using it now.
About the Daily Schedule template (Forest Animal Theme)
The timetabling section is hourly from 6 – 9 PM. The intention of the All-in-one Toddler Daily schedule is to provide a summary of daily activities and reminders in one single template.
Write down your lesson or teaching & learning plans for the day, your child's to-do list, meal plans, or special notes and reminders all in one single template.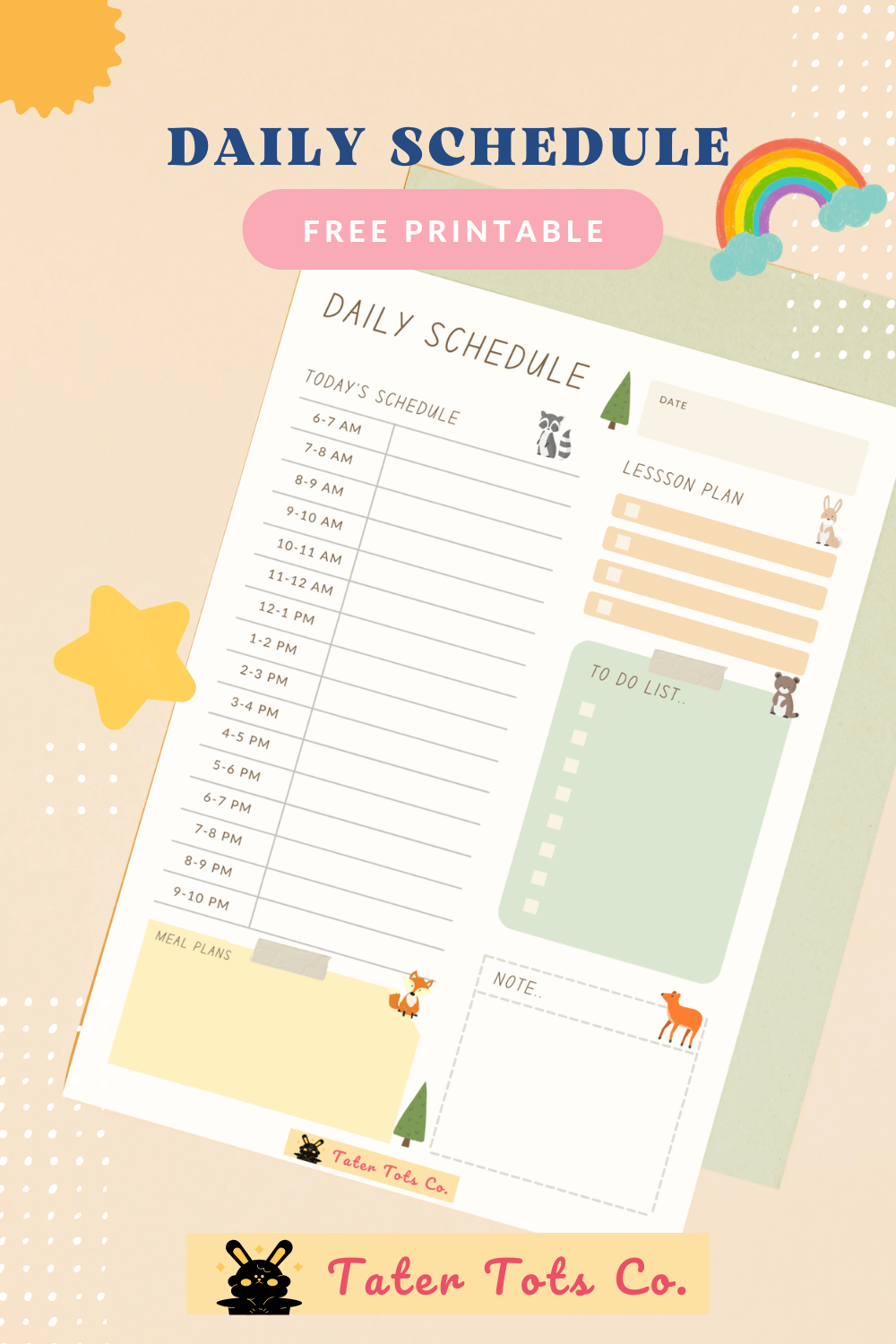 Preschooler Daily Journal/Record
A daily journal will help your child practice gratitude and mindfulness.
From a teacher's or childminder's perspective, it can be used as a helpful sheet to communicate a child's day in preschool.
Multi-Use Reward Chart
This reward chart has endless uses. You can use it for behavior training, potty training, reward charts for good habits, and behavior management.
This is a simple reward chart for kids. This can be used to track your child's progress while rewarding them for positive behavior. This reward chart is effective at home or in a classroom setting. Behavior charts such as this can improve children's behavior by positively reinforcing their good behavior and habits to receive more rewards.
Display it on a wall or in exercise books, and proceed to reward positive behavior with stickers, stamps, or smiley faces. When the child reaches the target, you can then reward them with a prize!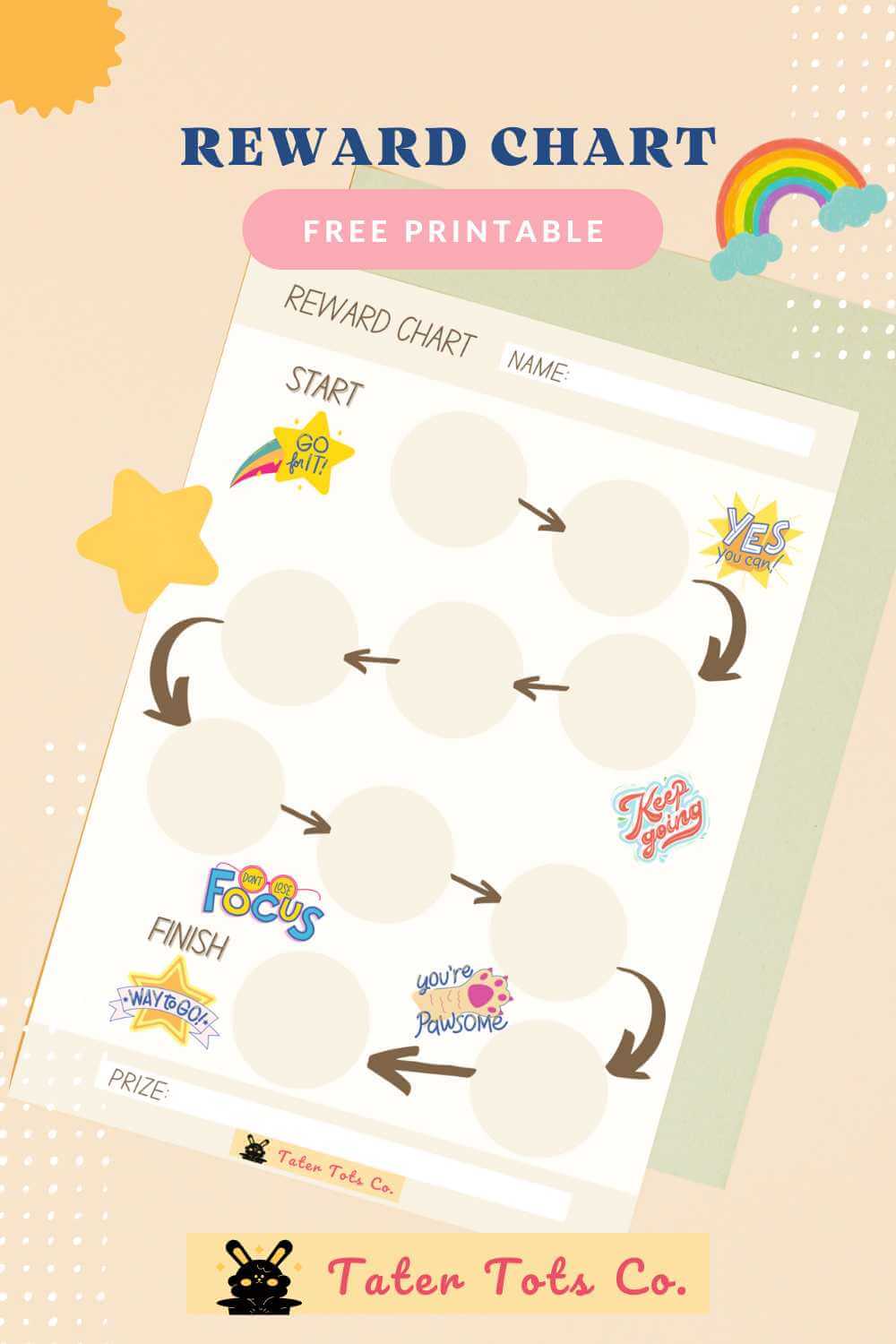 How to get the Free All-in-One Preschool Prep Pack
The All in One Preschool Preparatory Pack includes the following printables!
Preschool What to Bring/Pack Checklist
What I can learn in Preschool Checklist
All About Me Activity Sheet
All-in-One Daily Routine Schedule Planner
Preschooler's Daily Journal/Record Activity Sheet
Reward chart
How to download
Download this printable FREE!
Provide a valid email so we can send this to you instantly!
Access your child's readiness for preschool, know what to prep beforehand, printable templates included. 
Here's what's included in the All-in-one preschool preparatory pack,
Preschool Things to Bring/Pack Checklist
What I can learn in Preschool checklist
All About Me toddler activity poster
Daily activity schedule for parents/child/childminder
Preschooler daily journal template
Reward Chart for behavior management
By agreeing to download this printable you will automatically be subscribed to our newsletter to get updates on new content, blog posts, videos, and other freebies straight to your mailbox.
Follow us to receive updates on new content!
How to Edit the PDFs
You can use Adobe PDF Acrobat Reader DC if you have the paid version to edit the PDF.
You can also use Libre Office offline which is freeware so that you can edit them on your own. Do note that you can only edit it strictly for personal or classroom use only.
Refer to the guide below on how to use Libre Office offline to edit the printable.
LibreOffice is entirely free software that can be used offline as an alternative to Adobe Acrobat Pro DC Reader.
Some useful functions include
Simple edits drag block-by-block content
Remove/Edit/Add images
Remove/Edit/Add text
Export back as a PDF file

How to use as Digital Planner Inserts
You can even use them as digital planner inserts whereby you can annotate and draw freely on the PDF document.
Annotating apps like GoodNotes, Notability, Noteshelf, Xodo on IOS or Android can be used to draw and annotate PDF documents. All you need is a mobile phone/tablet and a stylus.
We do recommend GoodNotes for IOS (paid) and Xodo for Android (Free to download and use).
Some of these apps may require an in-store purchase to be able to use them.
Check out our other planners (PDF and digital) that can also be used for homeschooling.
Homeschool PDF Planner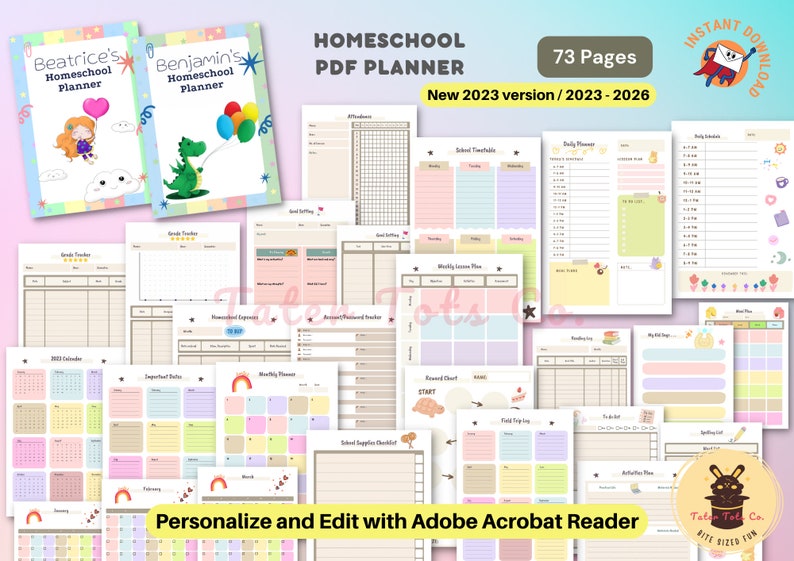 Simple Digital Brown Leather Notebook (Floral)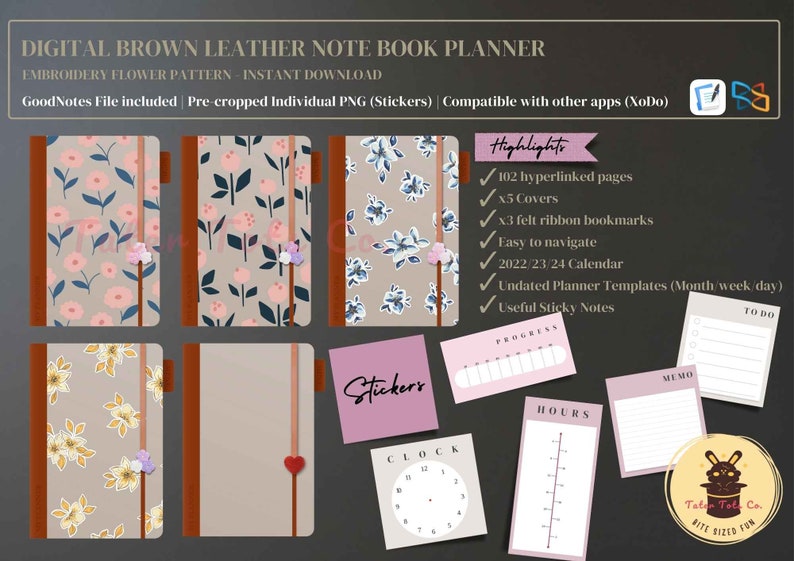 Conclusion
Are you way too busy to stay focused on your child before sending your child to preschool? Our preparatory pack will keep you on the ball and hopefully reduce your stress a little.
After reading this article, if you find that your child is still not ready for preschool, do not worry! It's really nothing serious or worth stressing out about. Just let it be and focus on helping your child as much as possible.
These are some general guidelines of some possible signs that may lead you to think that your child is not mature enough to go to preschool yet. You may want to review the following list before sending your child to preschool.
Signs that your child may not be ready for preschool yet…
Appears younger than peers (in terms of their behavior/actions)
Has very poor attention span or concentration
Have difficulty following simple one or two-worded commands
Cannot distinguish between left or right
Has poor eye-hand coordination
Moves in a clumsy or uncoordinated way
Struggles with fine motor skills such as cutting or holding a pencil etc.
Is too dependent on adults for self-care tasks (wearing own diapers, clothes, socks)
Not yet potty trained (depending on the school, some schools may require or prefer the child to be potty trained)

We certainly recommend that you check out the InspireMyTot page which is a compilation of inspirational parenting tips and toddler motivational video content. If you're looking for other toddler activity ideas, you can visit the site's section on Toddler Activity Ideas.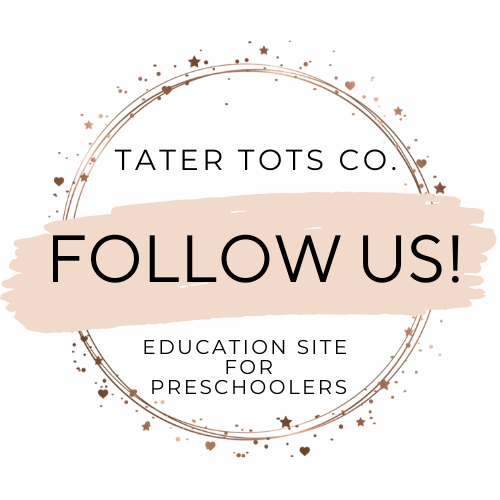 Follow us on Facebook/Pinterest for the latest blog updates, freebies, and Ukulele printables.
Warmest Regards,