(Last Updated On: May 2, 2023)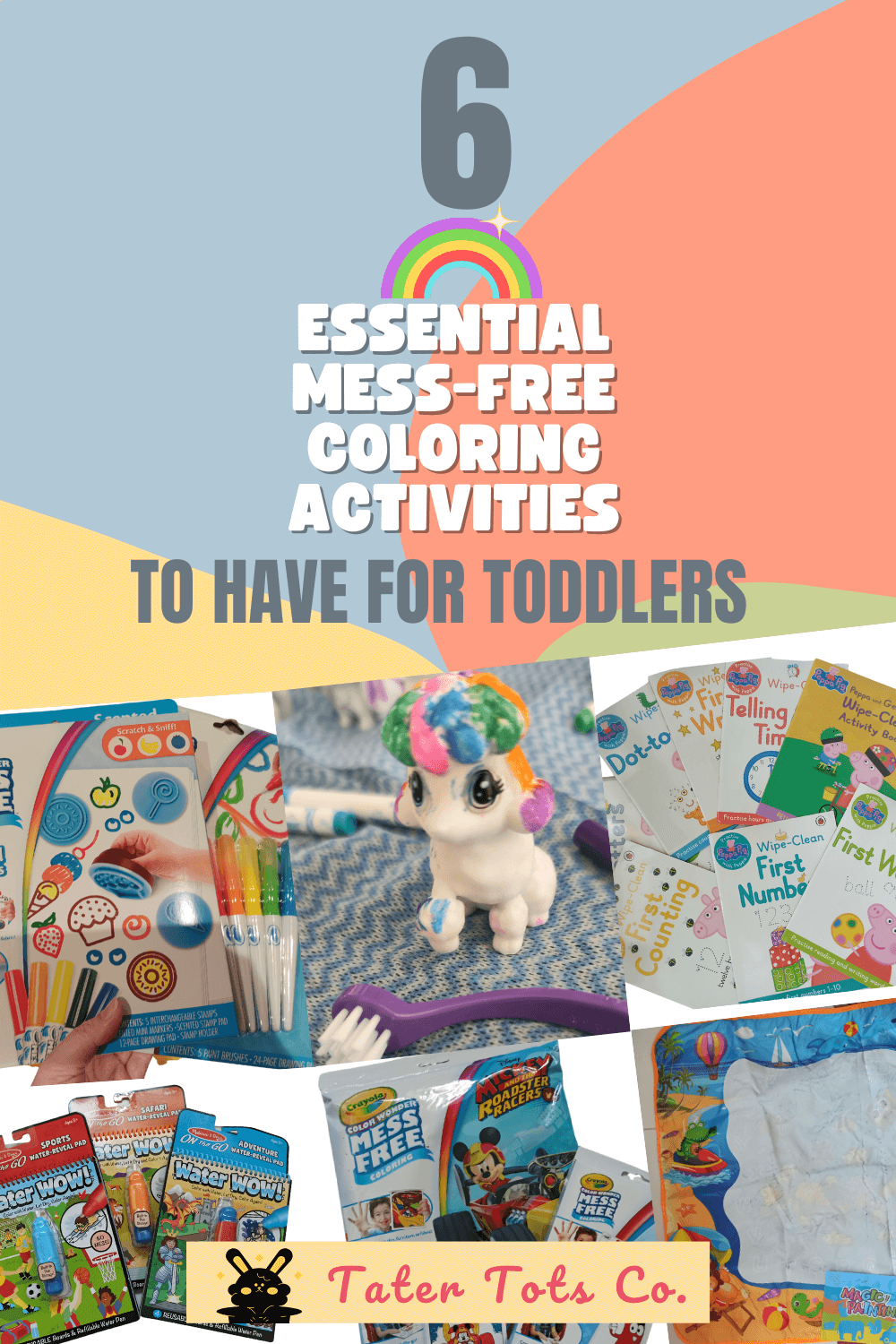 6 Quick Fix Essential Mess-free Coloring Activities to Have for Toddlers
Introduction
Don't we all love mess-free coloring activities? They are not only fun but save us so much time and trouble having to clean up after activities. They are great to use in rotation to other activities. Other than being mess-free – no preparation is also a plus because that saves you more time!
Not sure what types of coloring activities are both prep-free and mess-free?
Here are 6 essential mess-free coloring activities that we highly recommend you have on hand:
1. Crayola Color Wonder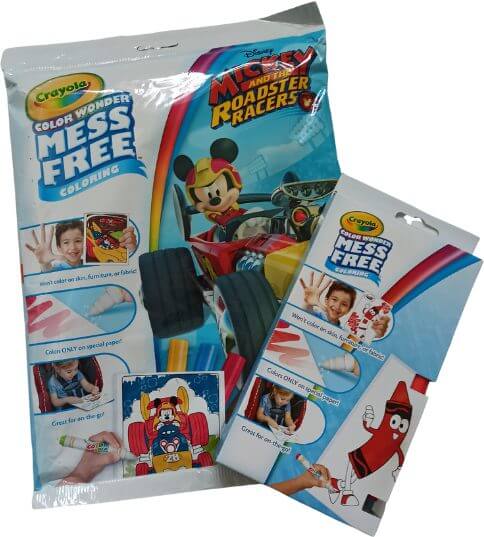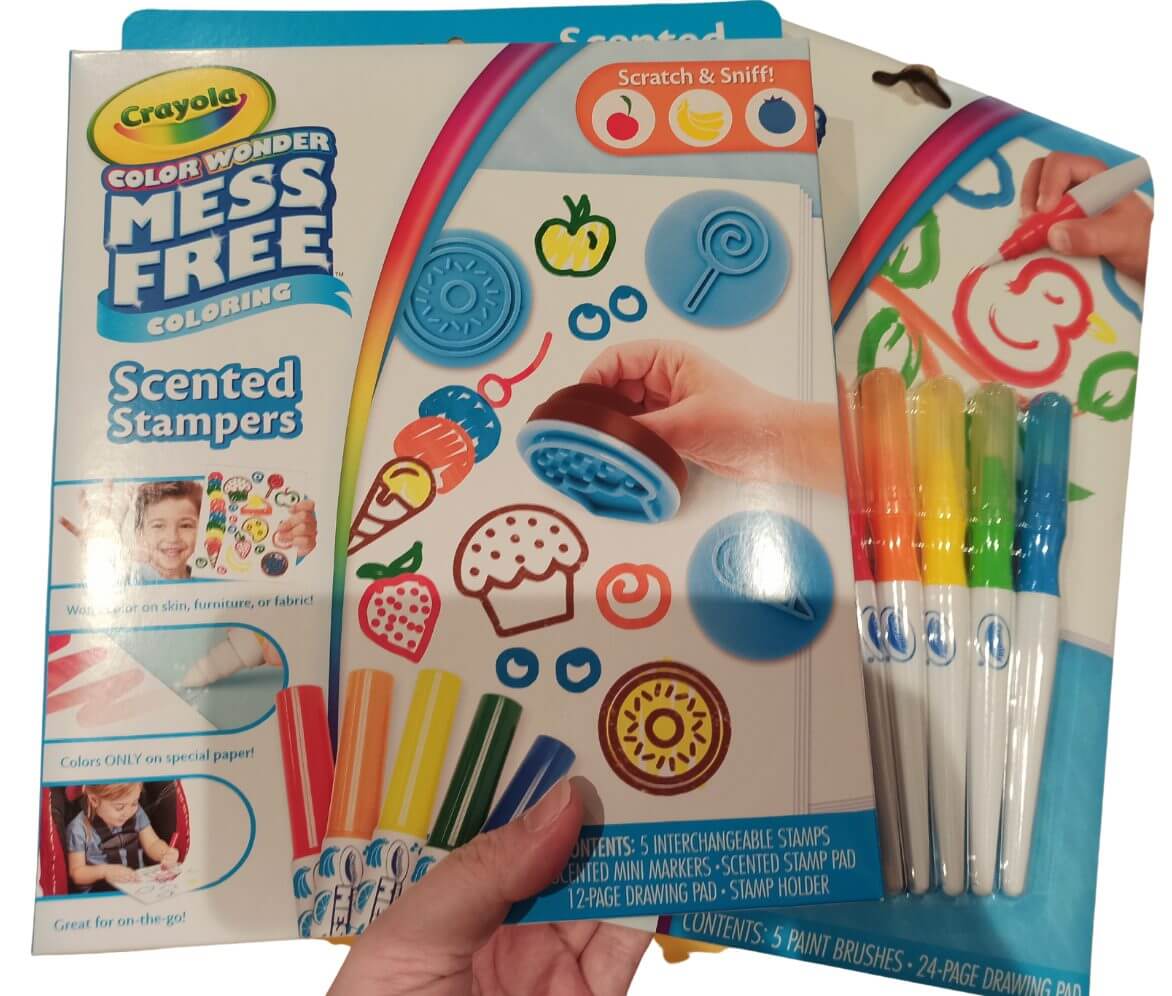 The first one is Crayola color wonder products because they are superbly popular. Crayola is a brand that has been around for ages as they are well known for their reputation and quality.
There are so many kinds of Crayola coloring sets for every cartoon and popular character from Paw Patrol to Disney and all. Cost wise they definitely are not cheap but are worth the penny since kids love them.
These sets usually come with magic or invisible ink Color Wonder Markers that will not show on skin, furniture, or clothes. They are also non-toxic, safe, and as we know mess-free. This means your toddlers can color to their heart's content without any risk of staining your walls, floors, or carpets. This activity is perfect for promoting color recognition and hand-eye coordination. They also come with all the materials and paper needed so there is no preparation required. They serve as a quick and easy boredom buster for young kids keeping them engaged and entertained.
When purchasing these, choose the activity sets with characters or cartoons that your child likes to inspire their creativity and imagination.
The other Crayola Color Wonder product to recommend is the No Mess Scented stampers which are a fun addition for kids who like to play around with stamps.
The stamp set is very easy to use and does not dry out. It works the same way as the marker and only shows up on Color Wonder Paper.

This is a list of the top few highly rated and recommended Crayola Color Wonder Mess-Free products,
Crayola Color Wonder Scented Stampers for Kids, No Mess Markers, Gift
Crayola Color Wonder Mess Free Coloring Kit, 60 Blank Coloring Pages and 20 No Mess Markers, Gift
Crayola Color Wonder Magic Light Brush, Mess Free Painting, Gift for Kids, 3, 4, 5, 6
Crayola Baby Shark, Paw Patrol & Blues Clues, 3 Color Wonder Mess Free Coloring Pads & Markers, Stocking Stuffers, Kids Gifts
Crayola Color Wonder Prehistoric Pals Specialty Markers and Paper, Multi
2. Crayola Scribble Scrubbies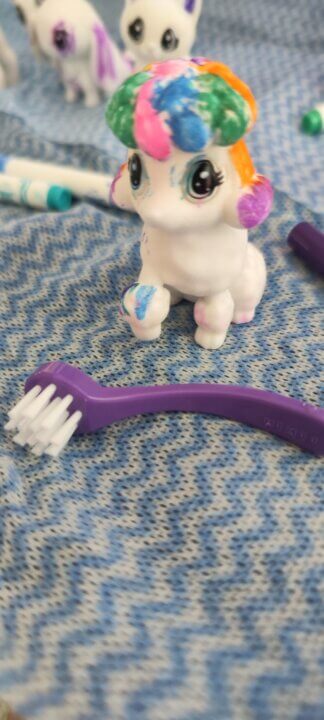 These cute little pet toys are designed with kids (3 and above) in mind, and bring a whole new level of fun to art time.
With their unique soft and fluffy coat texture, these Crayola Scrubbies allow young artists to color & customize their pets, then wash them and start again. They are not only adorable but also come with a bathtub and scrub for your child to play with.
Your child will enjoy endless hours of creative play without any worries. It's easy to use and easy to clean, making it a hassle-free addition to your child's playtime activities.
This Crayola Scrubbies Toy fosters imaginative thinking, problem-solving skills, and fine motor development.
3. Melissa Doug Water Wow (Highly recommend!)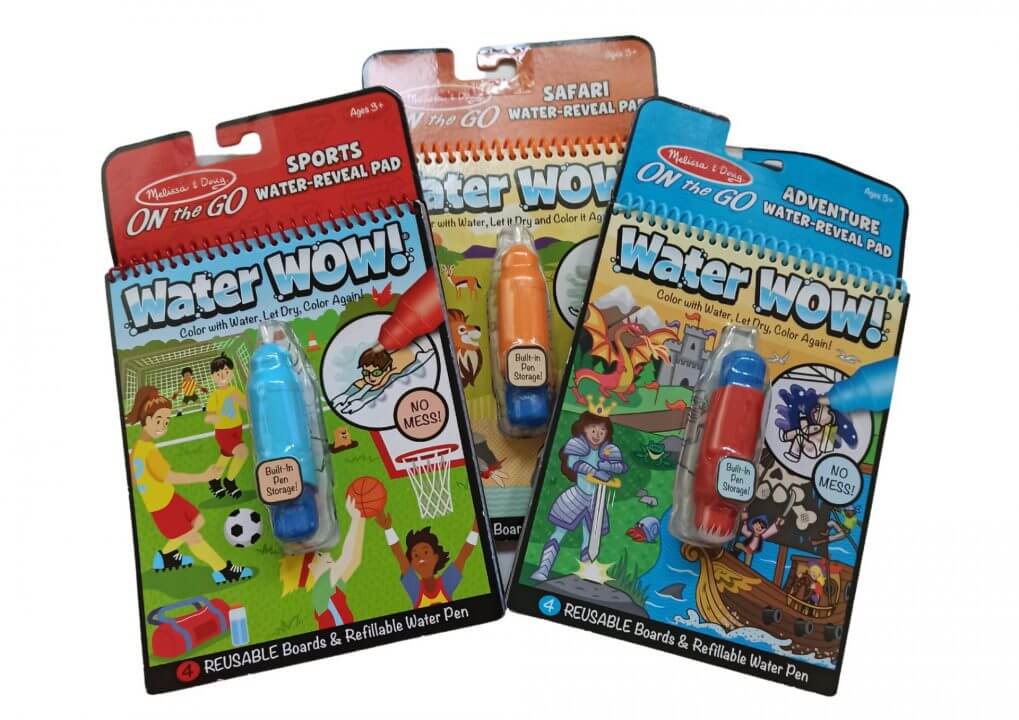 These are lifesavers when it comes to needing a travel activity or quick activity to keep young children occupied. It is a great time filler for short periods when you need to engage in household chores or when you're between schedules like commuting or getting ready to leave the house.
You just need to fill the water brush pen with water and it's ready to go. When the water touches the book, the colored images "magically" appear until the water is dried up.
The books dry rather quickly so they can be reused over and over again until your child loses interest and wants to move on with other activities.
Buy a few of these and keep them on standby for emergency needs. They are also more wallet-friendly when you buy them in packs!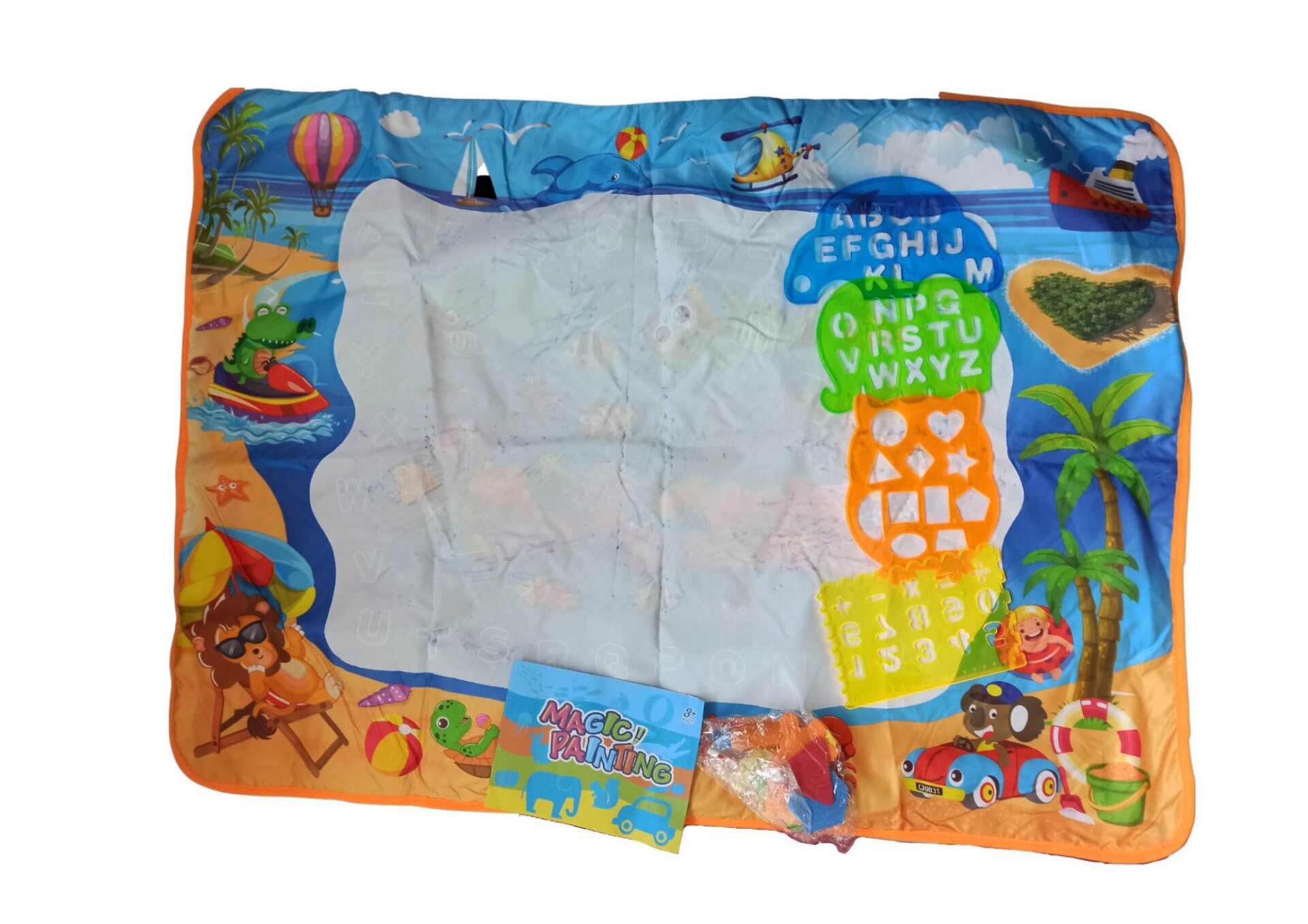 Another activity that is similar to these watercolor books is a water drawing doodle mat. Usually, these are great for group activities when children can work on an art project together. You can just fill a water pen with water and children can doodle away. They usually include drawing molds, stencils, and watercolor markers all in one set.
The marks will magically disappear after a couple of minutes and can be reused again. The drawing mat can be folded to a compact size making it portable for indoor-outdoor, and travel.

Melissa & Doug On the Go Water Wow! Reusable Color with Water Activity Pad 6-Pack
Obuby Water Magic Drawing Mat Kids 47×35 Inches Doodle Gifts Color Draw Board No Mess Coloring Painting Writing Educational Toys for Boys Girls Age 3-12 Years Old Toddler
Other brands of Doodle Mats:
Obuby Aqua Doodle Magic Mat Kids Doodle Mats Water Drawing Writing Board Toy for Kid Toddler Animal Educational Painting Pad Toys for Age 3 4 5 6 7 8 9 10 11 12 Girls Boys Toddlers Gift 40 x 28 Inches
Water Doodle Mat- Kids Painting Writing Doodle Board Toy – Color Doodle Drawing Mat Bring Magic Pens Educational Toys for Age 3 4 5 6 7 8 9 10 11 12 Year Old Girls Boys Age Toddler Gift
4. Wipe and clean activity books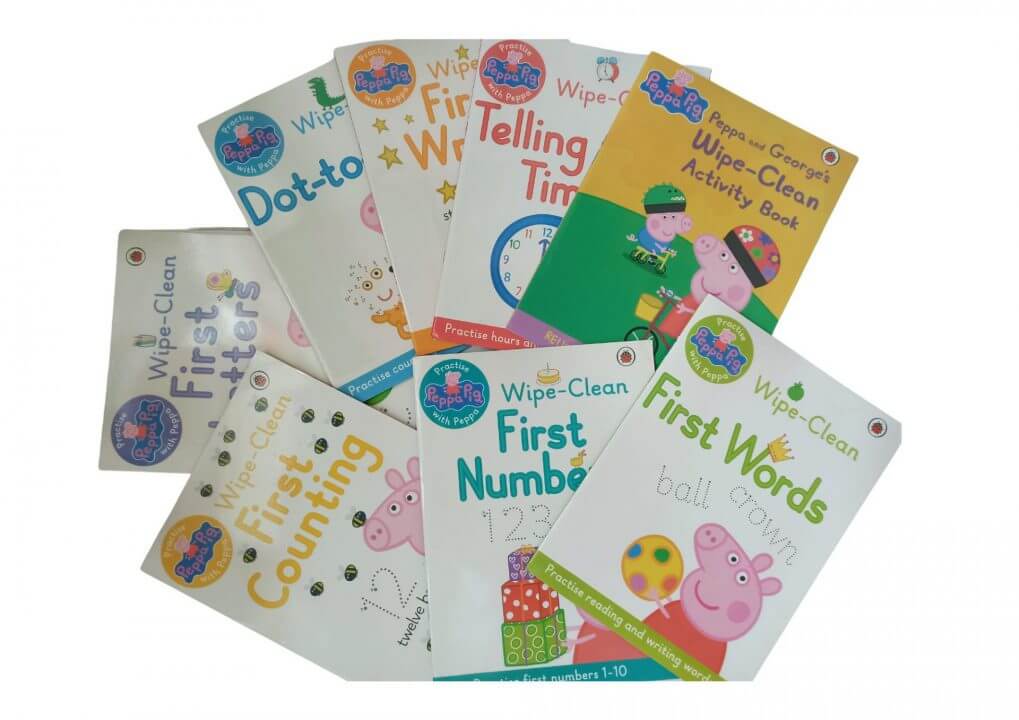 These are a must-have too because they are so environmentally friendly that you don't have to keep printing printables or activity worksheets. They can be reused again and again without additional cost.
There are lots of kinds of wipe-clean activity books such as tracing, puzzles, mazes, and other activities. We do recommend tracing activity types of wipe and clean activity books for children to practice handwriting skills.
A similar alternative to wiping and cleaning activity books is self-printed and laminated worksheets. By laminating or using a menu folder or plastic cover you can reuse the same worksheet multiple times.
It's advisable to have multiple colored whiteboard markers paired with good quality dust-free, absorbent dusters when doing a wipe and clean activity books.
Practice with Peppa is a great set of wipe-and-clean activity books that cover letters, numbers, time, dot-to-dot counting, and words for toddlers. Each book can be quite costly when purchased from Amazon. If you're able to buy from Taobao they are sold much cheaper than local bookstores and Amazon.

Peppa Pig: Practice with Peppa: Wipe-Clean First Letters Paperback – 5 June 2014
5. Water Painting Books
These books are a fantastic way to keep toddlers busy without any mess. With just a brush and water, toddlers can paint without worrying about any spills or stains. This activity promotes creativity and fine motor skills development.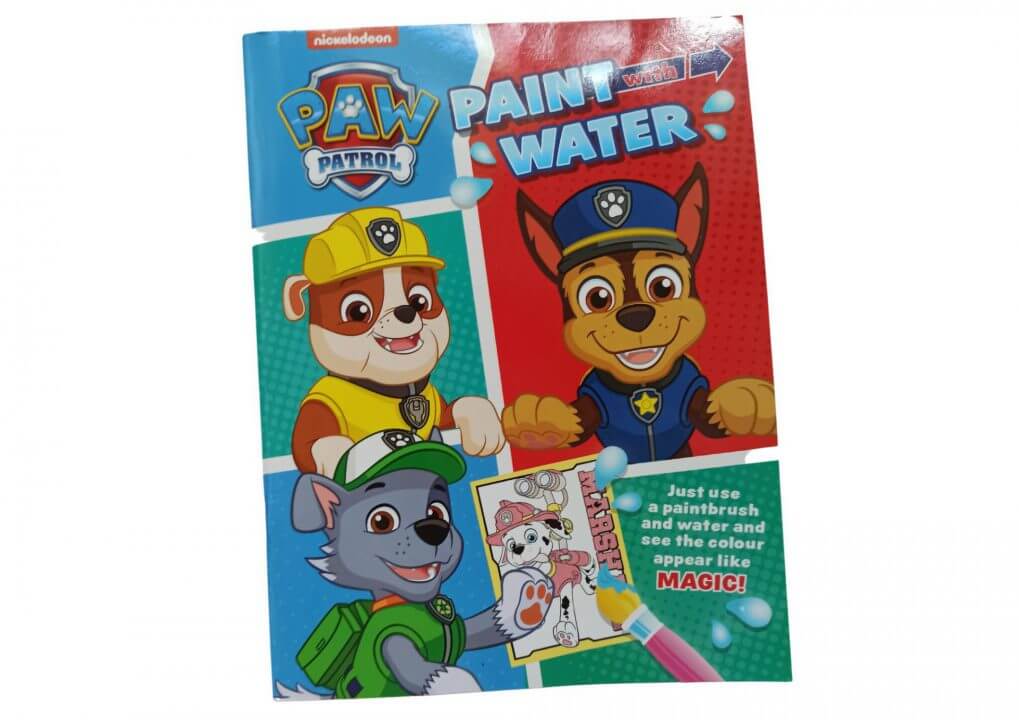 These produce the same effect as watercolor painting however you don't need to use any paint as the paint is already incorporated into the paper. The colors will appear on the pages like magic, with just water and a paintbrush.
The only drawback of this activity is that you need to wait a while for the water to dry completely. However, you should be able to tear out each art piece to dry separately so your child can work on other art pieces.

[Shop Malaysia] Paw Patrol Paint with Water Activity Book for Kids Ages 3-6 years
[Shop Malaysia] PJ Masks Paint with Water Easy & Fun Activity Book for Kids 32 Pages
6. Magnetic Drawing Board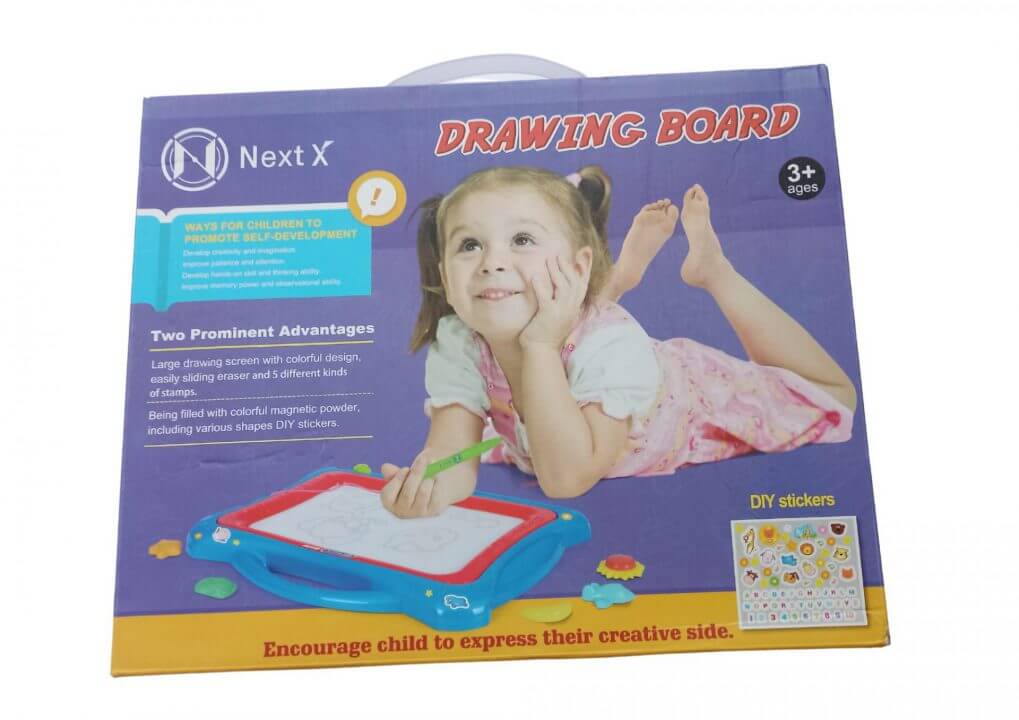 A magnetic drawing board is an excellent investment and a must-have for any caregiver. Toddlers can draw to their heart's content, erase, and start all over
There are also other types of doodle boards available in the market such as LCD doodle boards (with a black surface like a blackboard). LCD doodle boards are battery operated and are convenient, mess-free, and can be easily erased with a press of a button.
Another type of doodle board is the LCD Neon effect Drawing board which can light up in different colors with fluorescent magic markers. Having tried certain products, the ink can become really messy and difficult to erase and clean from the board. However, the glow art effect is quite appealing to kids because of the bright colors.

Traditional Doodle Boards
FLY2SKY Magnetic Drawing Board Kids Magna Doodle Board Travel Size Toddler Toys Sketch Writing Colorful Erasable Sketching Pad Holiday Birthday Gifts Girl Boy Educational Learning Toy
Wellchild Magnetic Drawing Board for Toddlers,Travel Size Toddlers Toys A Etch Toddler Sketch Colorful Erasable with One Carry Bag Magnet Pen and Three Stampers
LCD Doodle Boards
TEKFUN LCD Writing Tablet Doodle Board, 10inch Colorful Drawing Tablet Writing Pad, Girls Gifts Toys for 3 4 5 6 7 Year Old Girls Boys (Blue)
Sunany LCD Writing Tablet 8.5-Inch Toddler Doodle Board Drawing Pad, Electronic Drawing Tablet with Lock Function for Kids and Adults at Home, School and Office(Multicoloured-Pink)
mloong LCD Writing Tablet,10 Inch Drawing Tablet Kids Tablets Doodle Board Electronic Digital Drawing Board for Adults and Kids Ages 3+ (Pink)
7. Other mess-free activities
There are also many other mess-free alternatives to traditional coloring. Some may claim to be mess-free but are not entirely mess-free when you actually use the product.
So you would need to experiment with different activities to see which best fit you and your child's needs.
Some examples are dotted markers and certain types of crayons which claim to be mess-free but could still be messy for some.
We also recommend sticker books that provide endless opportunities for creativity with no mess. Let your toddler decorate various backgrounds with their favorite stickers.
With these mess-free coloring activities at hand, your little one will have countless hours of entertainment while you keep your sanity. Give them a try today!
Conclusion
Always read reviews before buying products as it'll save you the trouble of spending extra on something that may not be really mess-free after all.
Do you know of other types of mess-free coloring activities? Share the comments below!
If you're looking for other toddler activity ideas, you can visit the site's section on Toddler Activity Ideas.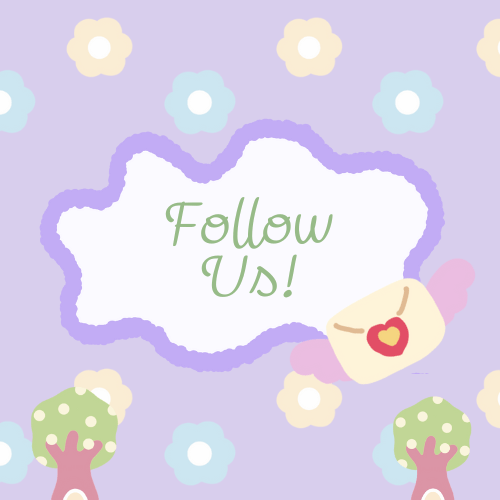 Follow us on Facebook/Pinterest for the latest blog updates, freebies, and Ukulele printables.
Warmest Regards,