(Last Updated On: October 23, 2022)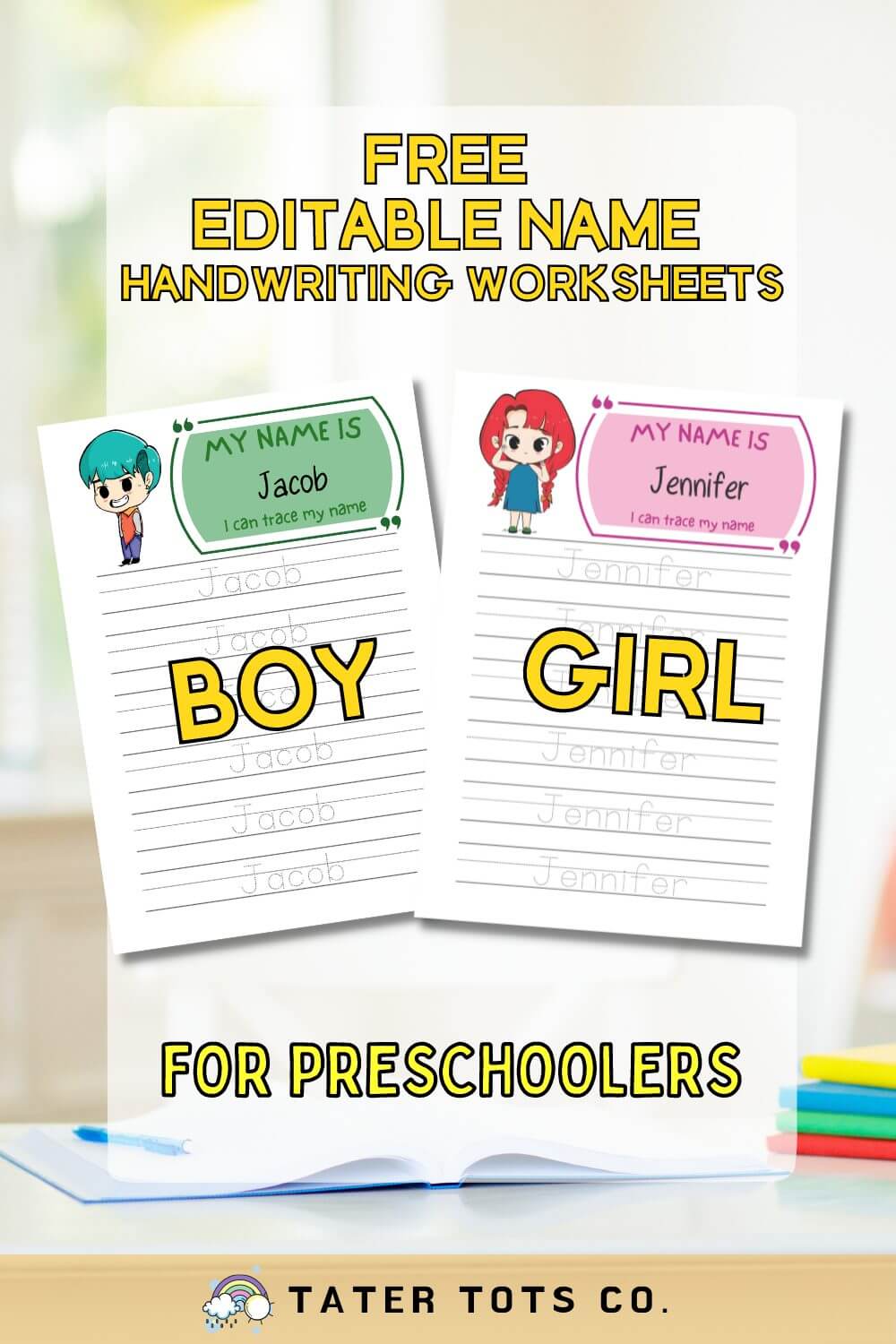 Free printable editable Name handwriting practice worksheets for preschoolers
Introduction
The free editable name handwriting practice worksheets are a helpful starter guide for children especially preschoolers to practice writing their own name.
At the top of the page, they can see their own name written for them followed by 6 lines of name tracing to practice writing the name.
Use these worksheets as a starter guide for preschool children to practice handwriting
Firstly, you can customize any name to edit because it's an editable fillable PDF. Secondly, we offer two options of worksheet templates by gender one for boys and another for girls. And thirdly it's free for download! Easily download it, edit the name, and print!

*It is advisable to use Adobe Acrobat Reader (Desktop Version) to edit the fillable name.
How to develop children's handwriting skills
As with everything else, get them to keep practicing so that they can do better! For preschoolers, name writing can help to build their early writing skills in a memorable and meaningful way. Another important part of learning to write neatly is to build pencil control skills. By doing more handwriting practice worksheets, children can get used to holding and controlling the pencil.
How to help your child in name writing
Here are some handy tips that might help your child on his or her writing journey,
Build familiarity with their name such that it is visible in many places. For example on their belongings, in their bedroom on their toys. This will help them to remember their name and the letters which make up their name.
Help them develop their motor skills by giving them tools such as pencils, pens, brushes to train with. Allow your child to experiment with these stationary even if it starts off with messy scribbles and doodles.
Use toys that are letter based and introduce alphabet activities to your child's daily learning. Let them learn the individual letters and alphabets and play name puzzles.
Should we hold our child's hand when doing handwriting practice?
As we all know, apart from having a super low attention span and focus on activities. How do we then help them better to practice handwriting? Certainly, otherwise, I don't think there's any other way you can get them to independently start writing! Subsequently, when they get better and more confident let them try on their own!
How to use
You can edit the fillable name fields with Adobe Acrobat Reader. It can be downloaded for free from adobe.com. After opening the PDF you can directly edit in the fillable name fields.
Do note that you may not be able to edit it from the mobile application version due to limitations, instead, you can use the desktop version to edit directly.
Download Link
You can download the file here. Please take note of our Terms of Usage of free printables on our site.
Personalized Themed Tracing Boards
Create your child's own personalised tracing board packed with various activities like name practice, alphabet/numbers, shapes, days of the week and pen control.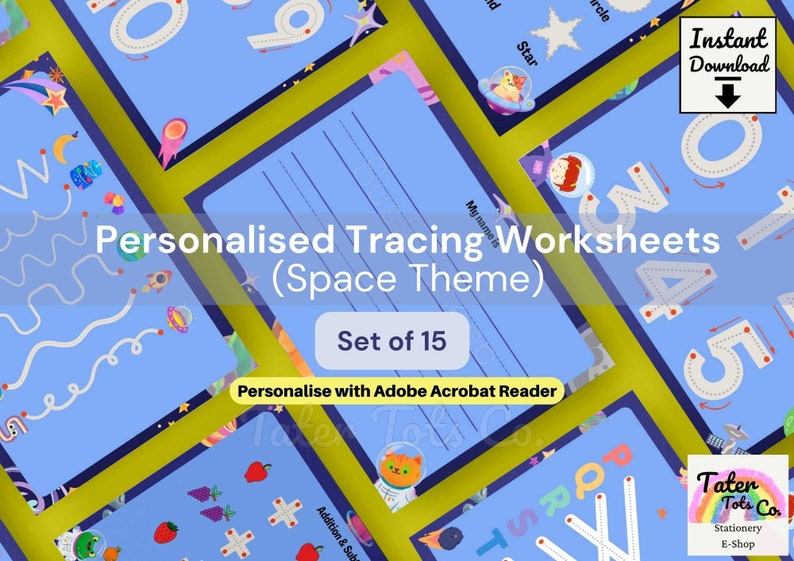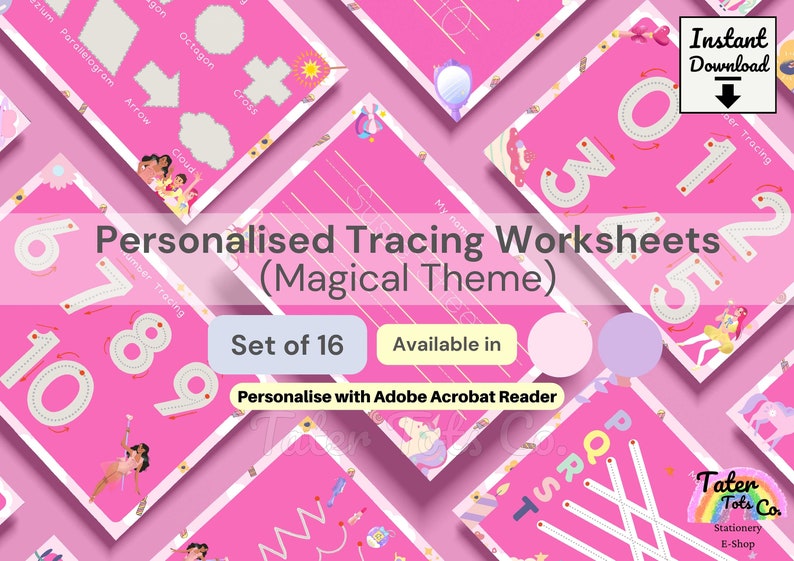 Editable Handwriting Practice Worksheets
We have high-quality designed templates for Handwriting Practice Worksheets suitable for preschoolers.
Train kids to properly write upper and lowercase letters. This is a set of ready-to-use handwriting practice activity value packs for kids. It comes with editable versions so that you can create your own simple handwriting practice sheets with the templates.
This reusable PDF allows you to change the text or words and re-use it again and again. You can either laminate or use dry erase pockets for handwriting practice.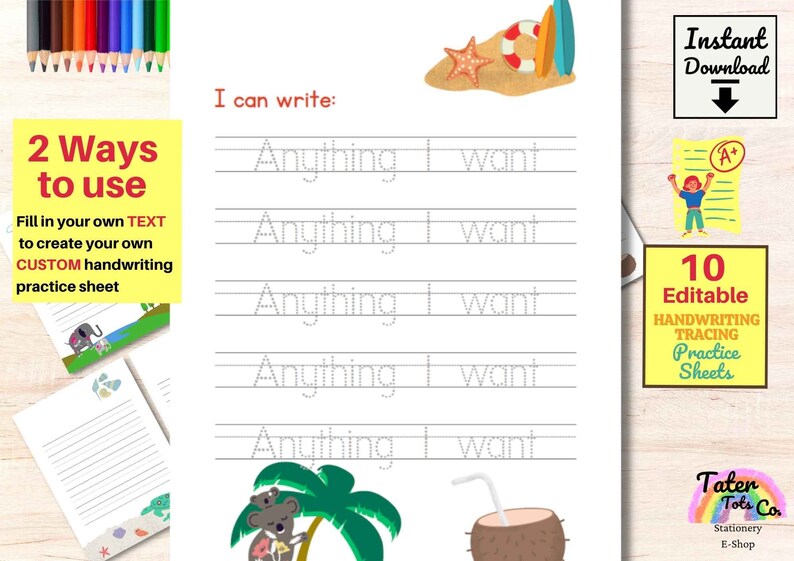 Conclusion
If your child is able to write their own name then that's great!
Name writing for the first time is an important milestone for both children and their parents. Take it slow and just let your child keep practicing. Eventually, children will be able to write their own names and there's certainly no need to rush this. For other freebies for kids, visit our section on Toddler Activity Ideas: free printables here.
Subscribe to our newsletter to receive alerts on free printable straight to your mailbox, you also get a free All-in-one preschool preparatory pack when you do so.
Download this printable FREE!
Provide a valid email so we can send this to you instantly!
Access your child's readiness for preschool, know what to prep beforehand, printable templates included. 
Here's what's included in the All-in-one preschool preparatory pack,
Preschool Things to Bring/Pack Checklist
What I can learn in Preschool checklist
All About Me toddler activity poster
Daily activity schedule for parents/child/childminder
Preschooler daily journal template
Reward Chart for behavior management
By agreeing to download this printable you will automatically be subscribed to our newsletter to get updates on new content, blog posts, videos, and other freebies straight to your mailbox.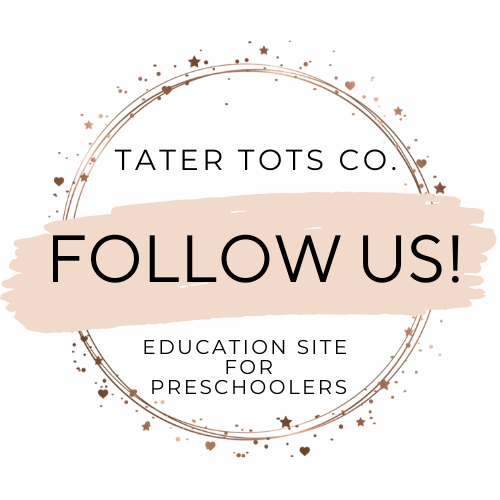 Follow us on Facebook/Pinterest for latest blog updates, freebies and Ukulele printables.
Warmest Regards,