(Last Updated On: September 10, 2023)
Free Printable Editable Lined Paper Name Handwriting Practice Worksheets
Introduction
Writing is an important part of daily activity for kids, but finding the right stationery to write on can be a challenge. This is why we have created a pack of free printable handwriting practice worksheets and lined stationery paper set freebies to train kids with. These resources will help kids enhance their writing experience and make writing a more enjoyable activity.
How to develop children's handwriting skills
As with everything else, get them to keep practicing so that they can do better! For preschoolers, name writing can help to build their early writing skills in a memorable and meaningful way. Another important part of learning to write neatly is to build pencil control skills. By doing more handwriting practice worksheets, children can get used to holding and controlling the pencil.
How to help your child in name writing
Here are some handy tips that might help your child on his or her writing journey,
Build familiarity with their name such that it is visible in many places. For example, on their belongings, in their bedroom on their toys. This will help them to remember their name and the letters which make up their name.
Help them develop their motor skills by giving them tools such as pencils, pens, and brushes to train with. Allow your child to experiment with this printable even if it starts off with messy scribbles and doodles.
Use toys that are letter based and introduce alphabet activities to your child's daily learning. Let them learn the individual letters and alphabets and play name puzzles.
Should we hold our child's hand when doing handwriting practice?
As we all know, apart from having a super low attention span and focus on activities. How do we then help them better to practice handwriting? Certainly, otherwise, I don't think there's any other way you can get them to independently start writing! Subsequently, when they get better and more confident let them try on their own!
How to use
You can edit the fillable name fields using Adobe Acrobat Reader which can be downloaded for free from adobe.com. After opening the PDF, you can directly edit the fillable name fields. This is for the first two pages of Name writing practice.
*It is advisable to use Adobe Acrobat Reader (Desktop Version) to edit the fillable name fields. You can also open it with Google Drive to edit directly (Desktop or Mobile Android) before printing it out.
The lined writing templates can be used for older kids to write – with a tracing and single lines.
You can use these worksheets to train neat and proper handwriting for preschool kids.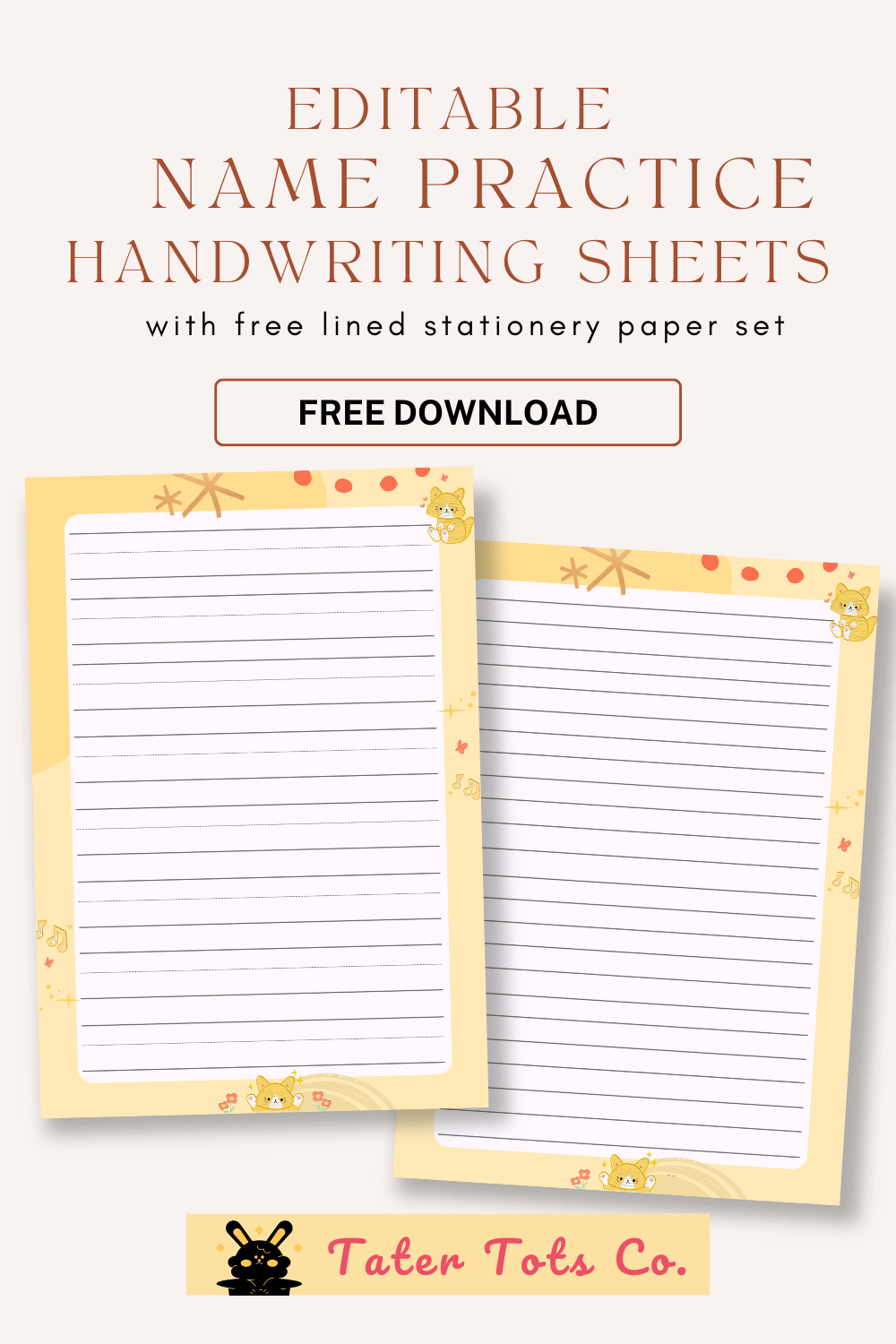 Download Link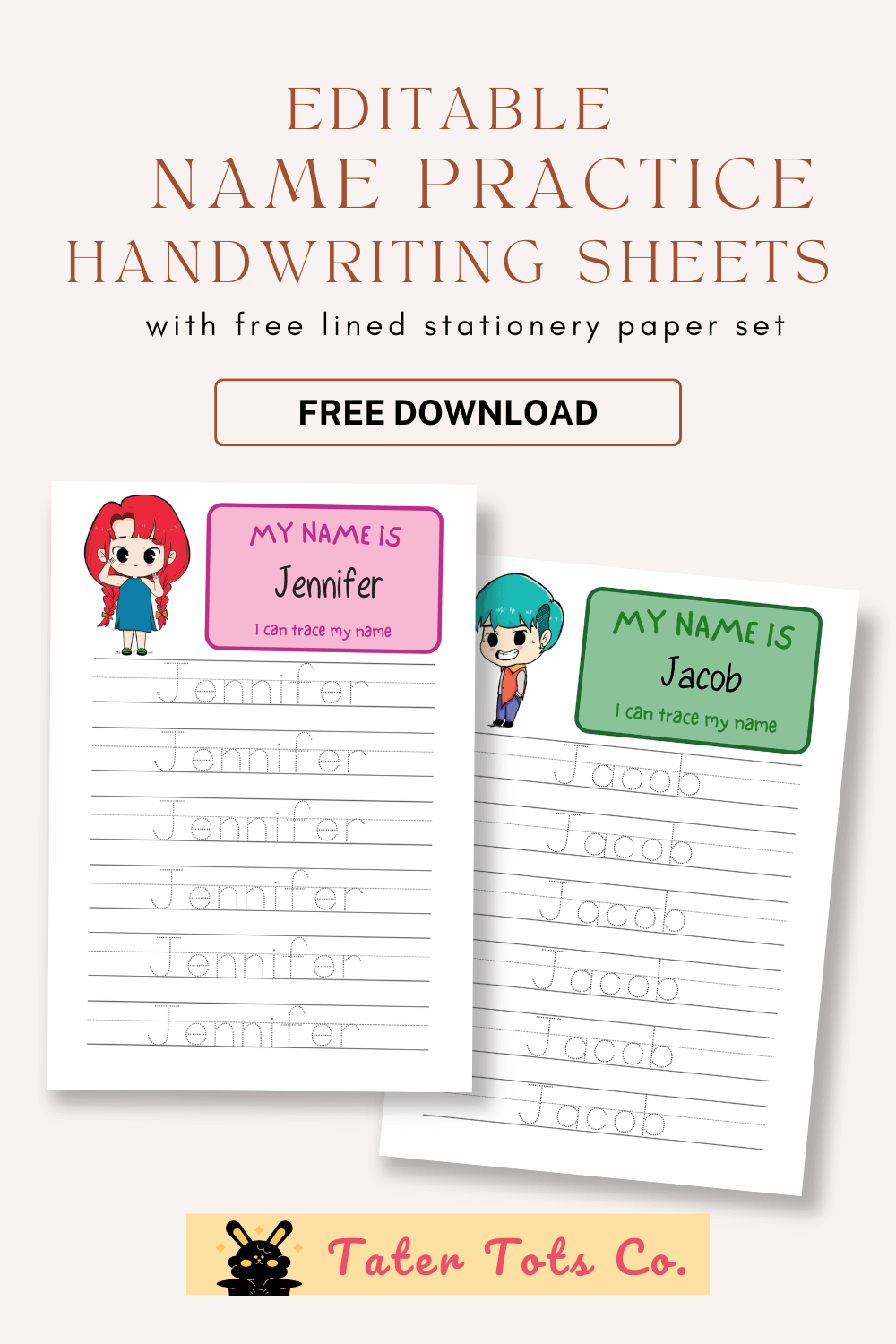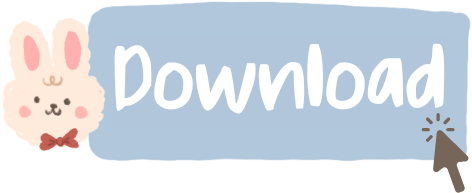 Download the free printable Editable Name Writing worksheets and Paper Stationery Set here.
By downloading our free printable, you agree to our Terms & Conditions of usage.
Benefits of using printable editable lined stationery paper
When your child is able to write better, consider using printable editable lined stationery paper which offers numerous benefits that can greatly enhance kids' writing experience. Here are some key advantages:
Organization: Lined stationery paper provides a structured layout for writing, making it easier to maintain neatness and alignment. The lines act as a guide, ensuring that your words are evenly spaced and aligned, resulting in a neater and visually appealing appearance.
Improved legibility: The lines on the stationery paper help to improve the legibility of writing. Whether you are using it to jot down notes, write a letter, or create a to-do list, having lined paper can make your writing more readable and easier to understand.
Enhanced creativity: While lined paper offers structure, it doesn't limit your creativity. The empty spaces between the lines allow you to add illustrations, doodles, or decorative elements to personalize your writing. This can be especially useful when creating handwritten cards, invitations, or artistic pieces.
Convenience: By utilizing printable stationery paper, you have the freedom to print as many copies as you need, whenever you need them. This eliminates the need to constantly purchase new paper, saving both time and money.

Incorporating printable editable lined stationery paper into kids' writing routines can significantly enhance the overall experience.
How to integrate writing practice into kids' daily routine
Integrating handwriting practice into kids' daily routines is a fantastic way to enhance their writing skills and overall writing experience. Not only does it improve their penmanship, but it also helps to strengthen hand-eye coordination and boost cognitive skills.
Firstly, set aside a specific time each day dedicated to handwriting practice. It could be in the morning before or in the evening at the end of the day. Consistency is key, so make sure to stick to your chosen time slot.
Next, create a comfortable and inviting space for writing practice. Find a quiet area with good lighting where kids can focus without distractions. Prepare your kids' favorite printable stationery paper set and handwriting practice worksheet ready, along with their favorite pen or pencil.
Start with warm-up exercises. Simple activities like drawing shapes, practicing strokes, or writing out the alphabet can help get their hand muscles ready for writing.
Once warmed up, choose a specific letter or word to focus on for each practice session. Have kids write it slowly and deliberately, paying attention to the formation of each stroke. Be patient and allow them to take their time. As they progress, gradually increase the complexity of the letters or words.
To make the practice more enjoyable, consider playing soft background music or incorporating mindfulness techniques.
With regular practice, by integrating handwriting practice into kids' daily routines, you can help kids cultivate a sense of mindfulness and creativity.
Creative ideas for using stationery paper for homeschool
Lined stationery paper offers a world of creative possibilities beyond the traditional use of writing letters or notes. Here are some inspiring ideas to enhance kids' writing experience and make the most of these versatile resources.
Journaling: Use the lined stationery paper to create a beautiful journaling experience. The lined paper provides structure and organization while giving you the freedom to express thoughts, dreams, and ideas.
Letter Writing: Let kids experiment with writing heartfelt letters to friends and family, pen down their thoughts and emotions, or simply send a handwritten note of appreciation.
Creative Writing: They can be used to write short stories, poems, or work on creative projects. The structure of the lined paper will guide kids' writing while still allowing room for creativity to flourish.
Worksheets and Handouts: If you're an educator or a tutor, the printable editable lined stationery paper sets can be a valuable resource. Create custom worksheets, handouts, or writing prompts for your students.
Goal Setting and Planning: Use the lined paper as a tool for goal setting and planning. Have kids write down their goals, break them into simple steps, and track progress.
Gratitude Journal: Dedicate a section of the lined paper to create a gratitude journal. Each day, have kids write or draw things they are grateful for, reflecting on the positive aspects of their life. The act of writing on lined paper adds a sense of mindfulness and intention to their gratitude practice.

Personalized Themed Tracing Boards
Create your child's own personalized tracing board packed with various activities like name practice, alphabet/numbers, shapes, days of the week, and pen control.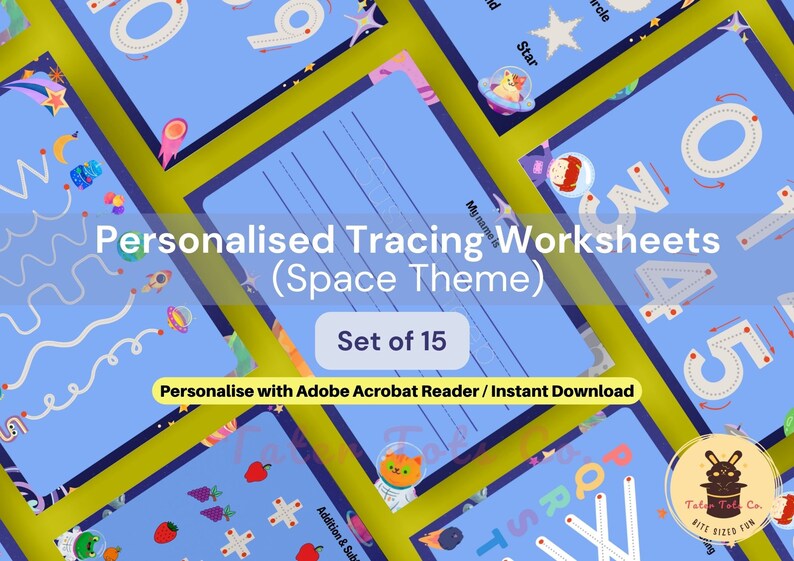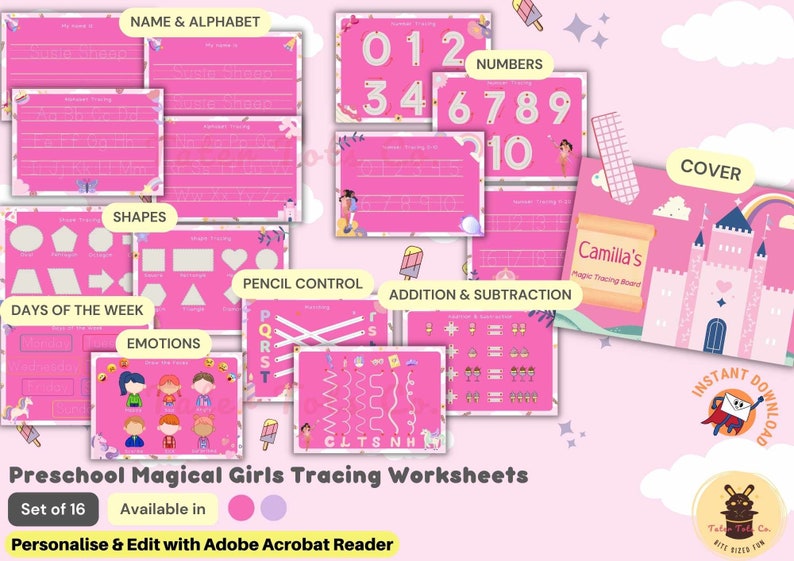 Editable Handwriting Practice Worksheets
Looking for editable handwriting practice worksheets? Train kids to properly write upper and lowercase letters. This is a set of ready-to-use handwriting practice activity value packs for kids. It comes with editable versions so that you can create your own simple handwriting practice sheets with the templates.
This reusable PDF allows you to change the text or words and reuse it again and again. You can either laminate or use dry-erase pockets for handwriting practice.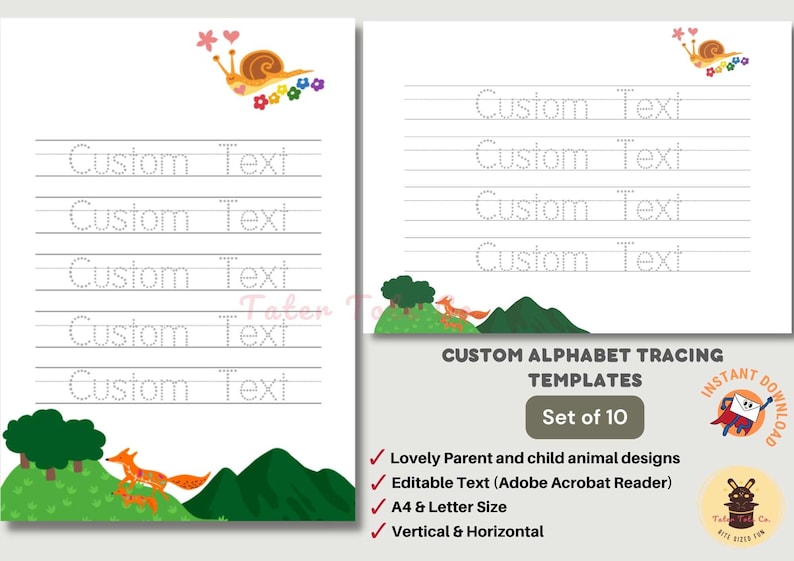 Non-Editable Letter Writing Set
Unleash kids' creativity with Tracing and Handwriting stationery paper templates! Available in a variety of designs, offering 4 different writing styles – tracing, lined, grid, and blank – there are so many ways to use them.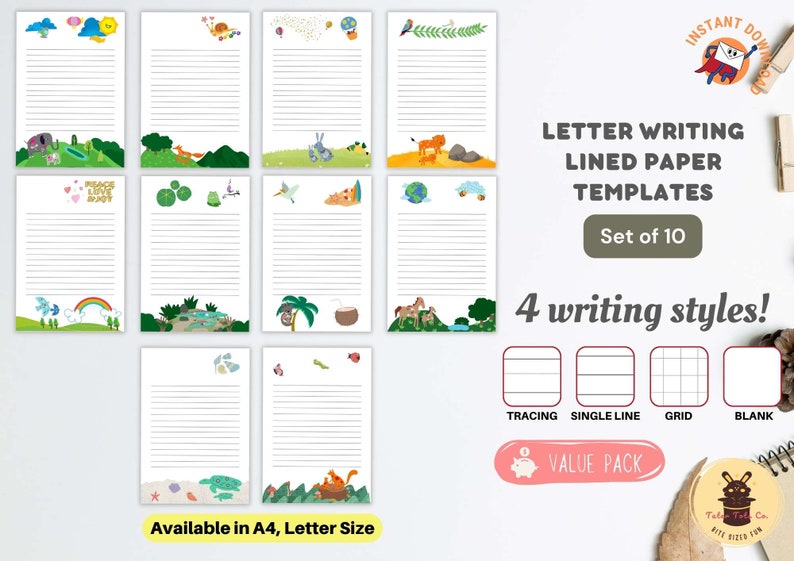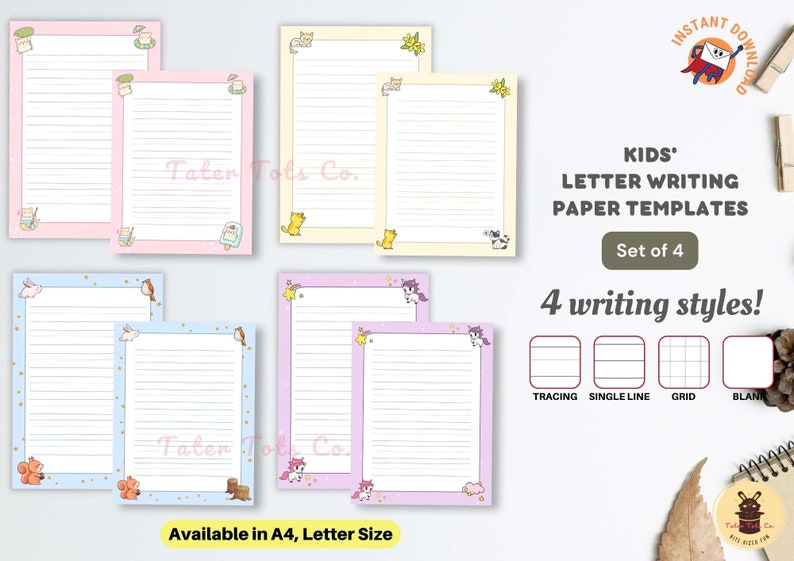 Looking for a fun and educational way to help your kids learn to spell and write their names? Check out our Personalized Name Write and Color Poster, featuring cute themes that will spark their imagination.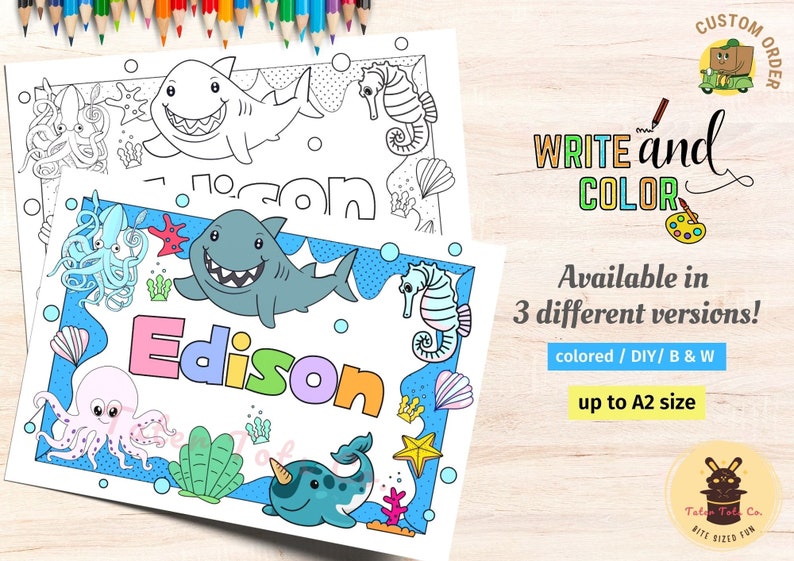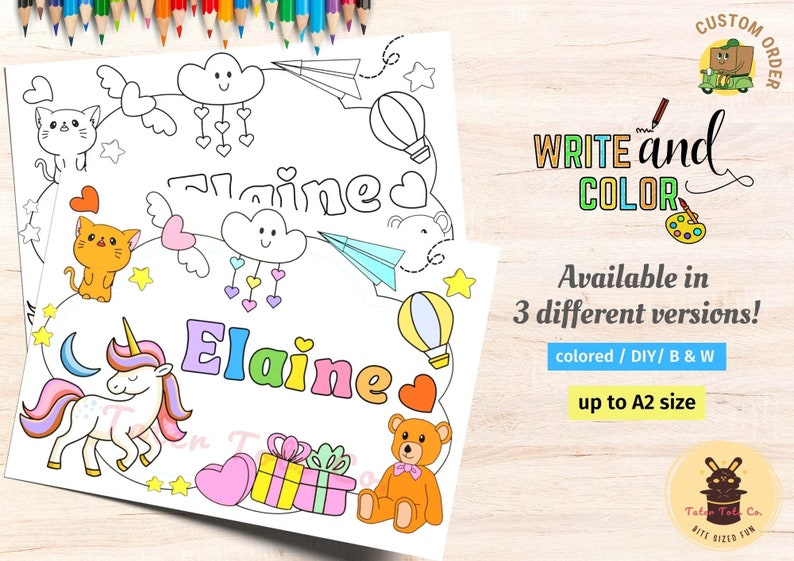 Conclusion
If your child is able to write their own name, then that's great!
Name writing for the first time is an important milestone for both children and their parents. Take it slow and just let your child keep practicing. Eventually, kids will be able to write their own names and there's certainly no need to rush this.
We hope you found our article with free resources helpful in improving kids' penmanship. We hope these resources bring joy and inspiration to their writing journey.
For other freebies for kids, visit our section on Toddler Activity Ideas: free printables here.
Subscribe to our newsletter to receive alerts on free printable straight to your mailbox, you also get a free All-in-one preschool preparatory pack when you do so.
Download this printable FREE!
Provide a valid email so we can send this to you instantly!
Access your child's readiness for preschool, know what to prep beforehand, printable templates included. 
Here's what's included in the All-in-one preschool preparatory pack,
Preschool Things to Bring/Pack Checklist
What I can learn in Preschool checklist
All About Me toddler activity poster
Daily activity schedule for parents/child/childminder
Preschooler daily journal template
Reward Chart for behavior management
By agreeing to download this printable you will automatically be subscribed to our newsletter to get updates on new content, blog posts, videos, and other freebies straight to your mailbox.
Follow us to receive updates on new content!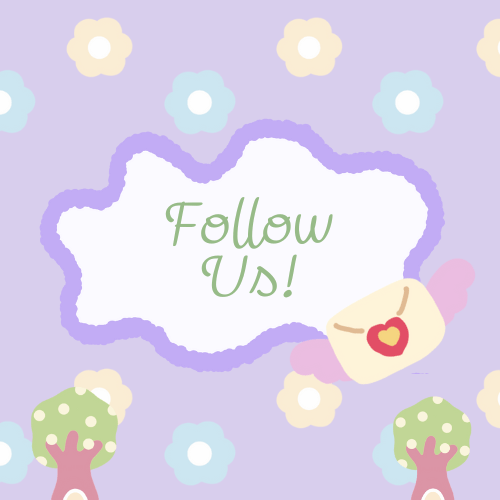 Enjoyed this free printable? Be sure to follow us on Facebook/Pinterest for the latest blog updates, freebies, and Ukulele printables.
Warmest Regards,