(Last Updated On: November 29, 2022)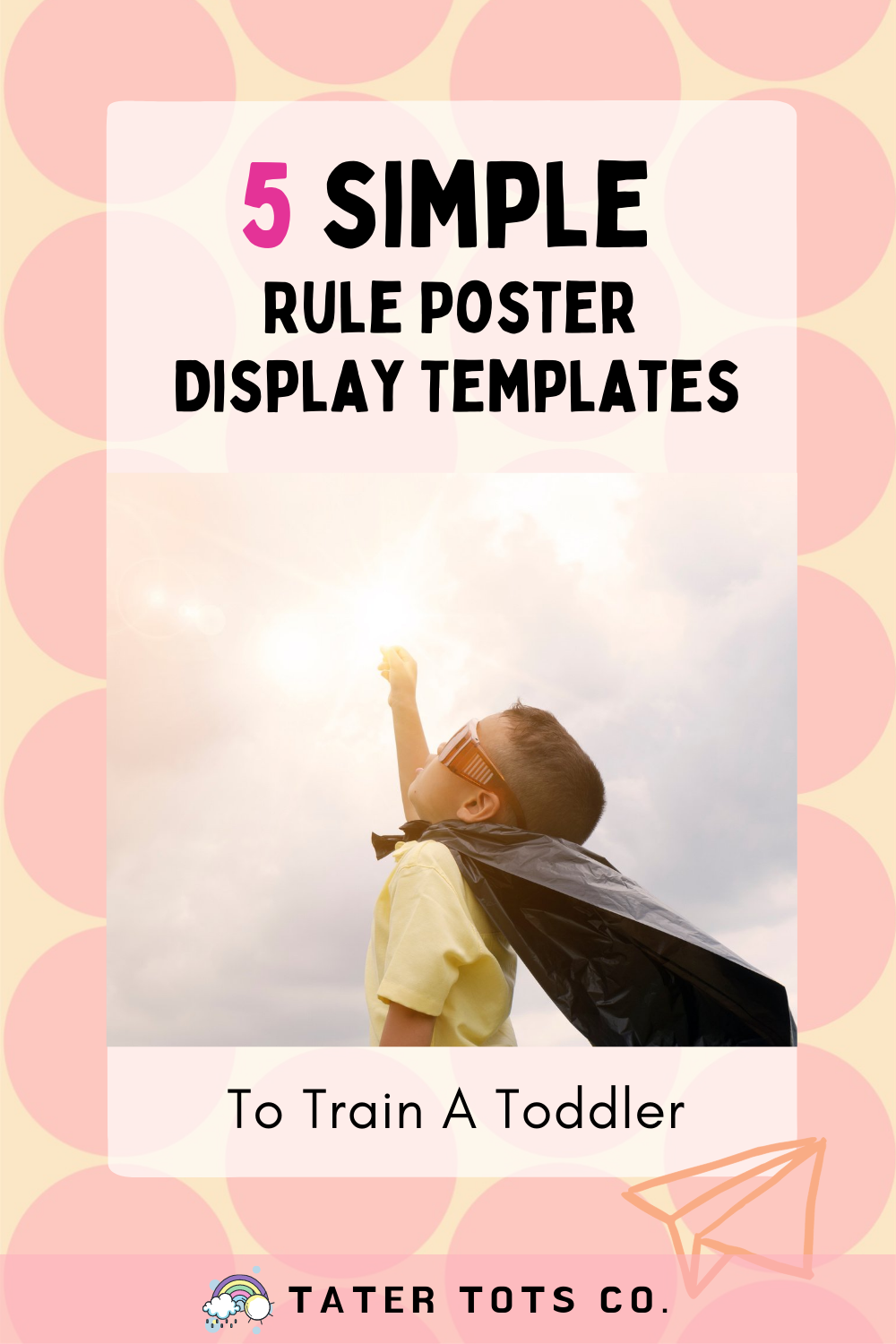 5 Simple Rules For Kids To Train A Toddler
Introduction
In this post, we talk about some brief tips on how parents can implement and enforce rules for toddlers or preschoolers. We will go through the benefits of setting rules and also share 5 Types of rules for kids. These rules are in a poster printable format and can be displayed either at home or in a classroom setting.

These rules only serve as a general guide for setting rules. However, parenting styles would differ depending on how your child grows and develops. Every child is different and has their own unique personalities, individual needs, and learning speeds when learning and reacting to rules.
Continue reading more below and download a free copy of a sample of the Family Rules poster.
Why do toddler need rules?
Setting rules are important for toddlers. It helps toddlers understand what is right or wrong and teaches them how to behave. It is similar to the concept of setting expectations in business concept or work. For example, you set expectations for customers and clients so that they know what to expect. Others won't be so disappointed if something goes wrong. This is one perspective to look at setting rules for toddlers. However, it also depends on family culture and upbringing which would influence each family's perspective towards setting rules.
Sometimes we are also afraid of being too strict with our rules in fear that we may distance ourselves from our child. This however should not be the case. Instead, it would make your child feel more secure, loved and really shows your child that you care about them.
How much freedom should toddlers have?
Freedom to a certain extent is good for kids to help them gain confidence and boost their motivation. It allows them to have some control over their life. We should encourage their independence whenever possible while guiding them like how a leader would. Hence parents should determine what is a reasonable and realistic limit to set rules for their child.
Instead of exercising "Helicopter Parenting" and being strict about every single matter, children also need their own space. Just for information, a "Helicopter Parent" is defined as a parent who pays extremely close attention to a child's experiences and problems, particularly at educational institutions (Wikipedia's definition). Kids are also human and they need to play, have fun, and enjoy every moment especially when they are young!
How can we help our child to follow rules?
We all know that all children are different and have different learning speeds. Some children may need more guidance and feel unsure as they explore and try to do new things. As moms, we need to be patient, lead, guide, show, and constantly encourage and monitor their progress while encouraging independence.

When possible, check with your toddler on whether they need help and continue to praise them when they perform well. Openly communicate with your child, communication should be 2 way. Talk to your child and listen to their needs. This will ensure that you'll both build a strong bond to grow and mature together.

In addition, we can involve a child in setting rules if possible. Explain why each rule is important in the simplest terms which is easy for them to understand. Ask your child what he or she thinks about the rule and whether they have other suggestions. They may not be able to suggest much. However, they may have some other preferences in the way they do things.
Enforcing Rules in a Loving way
It is not easy to create and introduce rules for your child. Some parents may avoid doing so as they feel that it's uncomfortable or unpleasant. However, bear in mind that we need to protect, nurture and provide for our child so enforcing rules is one way to achieve this. Introducing rules at a young age would also greatly impact parents positively as teaching your child to behave would certainly make your life easier!
Most importantly, keep the rules simple and clear so that it's easy for young kids to remember. When setting rules, parents should set a good role model for their children to follow in order to enforce them.
5 Types of Rules for kids
These are some examples of rule posters for kids.
These rules can be used at home, in the classroom, or outdoors. They are easy to read and understand. The graphics are great as a visual aid for young children.
1. Golden House Rules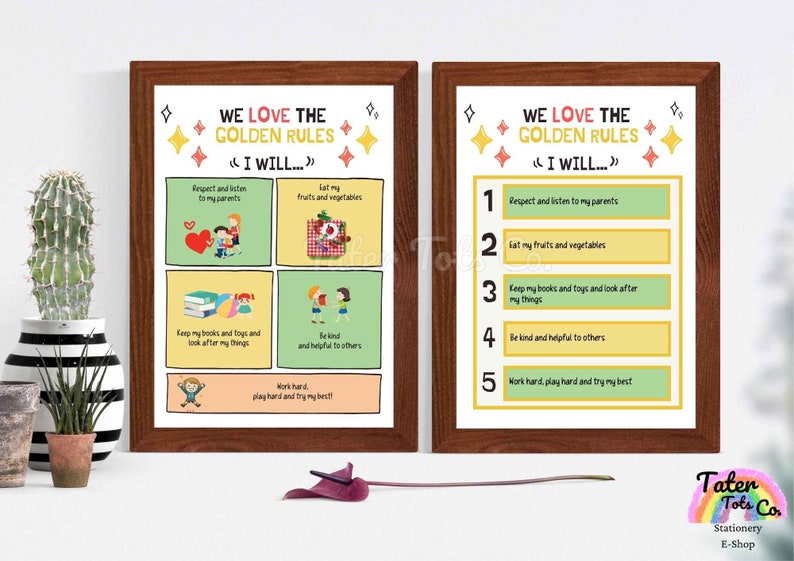 The Golden House Rules poster serves as a reminder for young children on how to act at home.
They are constantly reminded of these simple and purposeful rules. It can be displayed anywhere at home, in the child's bedroom, playroom or living room, etc.
2. Classroom Rules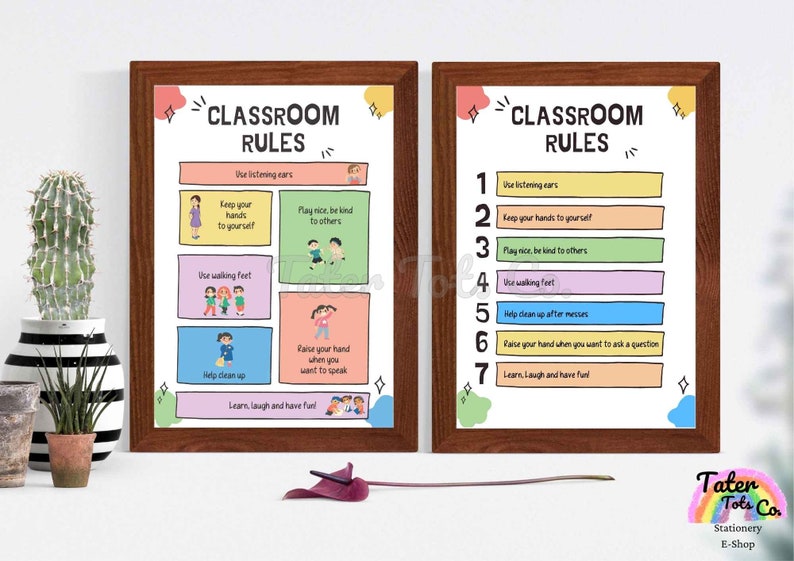 The Classroom Rules poster serves as a reminder for young children on how to act in the classroom.
This poster can be displayed on the bulletin board or in the classroom where kids interact with one another.
3. Going Out Rules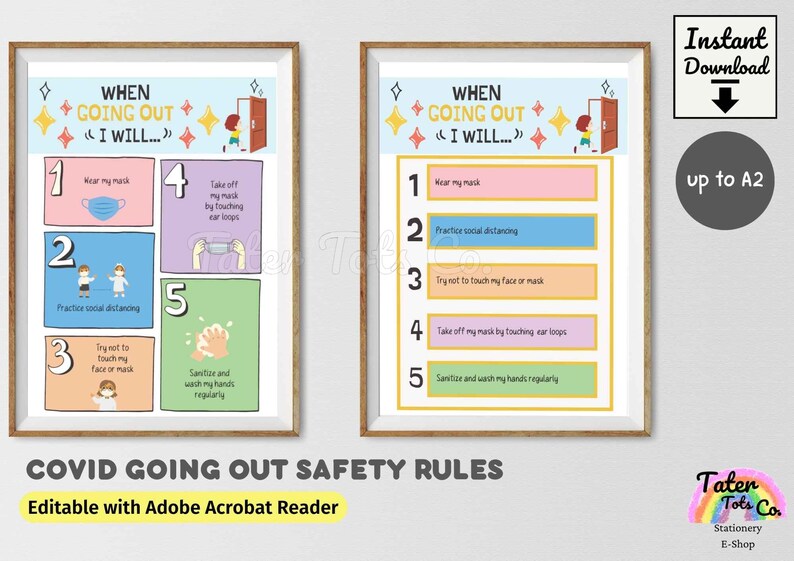 The Going Out Rules poster serves as a reminder for young children on what to do when they go out. Safeguard the health and safety of your child with this poster.
This is a useful poster that you can display at the main entrance or near the doorway of your house.
With current ongoing safe distancing and COVID measures when going out, kids are reminded of the rules to follow.
4. Bathroom Rules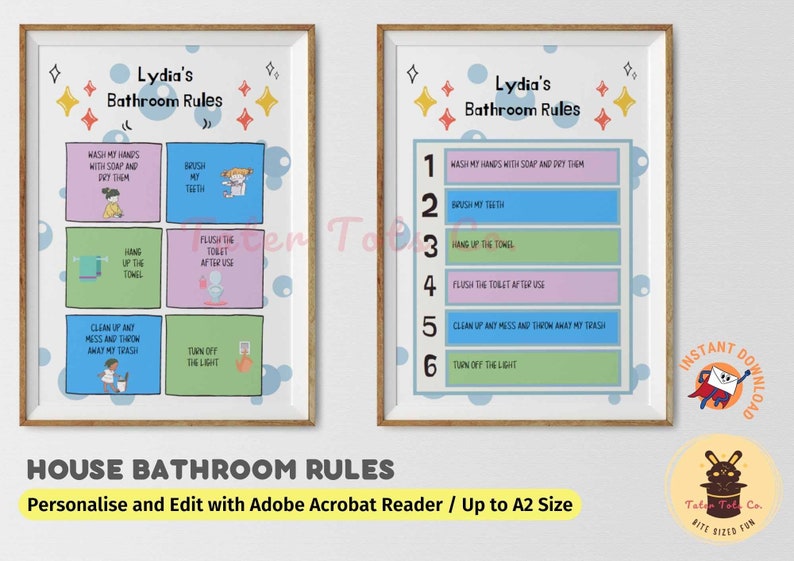 The Bathroom Rules poster serves as a reminder for young children on what to do in the bathroom. This poster is for displaying inside or outside the bathroom.
It will help your child to develop good hygiene habits in the bathroom tied together with their daily routines.
5. Bedtime Rules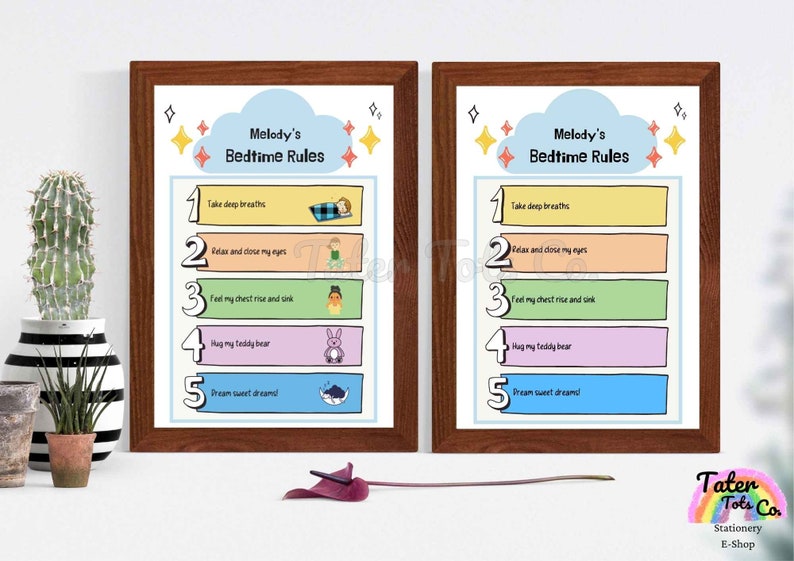 The Bedtime Rules poster serves as a reminder for young children on what to do when sleeping. This poster is for displaying in the child's bedroom when he or she goes to bed.
Create your own Family Rules (Editable PDF)
Here are some samples of editable PDF templates of Family Rules which are similar to our Golden House Rules. Download a free copy of a sample template of the Family Rules below!
Family, house, home rules, whichever way you want to call it are so important to establish at a young age.
As a family, we spend so much time at home living together. We all want to get along harmoniously together staying under the same roof while establishing good relationships.
The Family Rules Poster can be easily customized by adding in your own family rules and displaying them at home as a reminder for children and to keep their behavior in check.
Rules can change often depending on circumstances which is why it should be highly customizable to suit different household needs.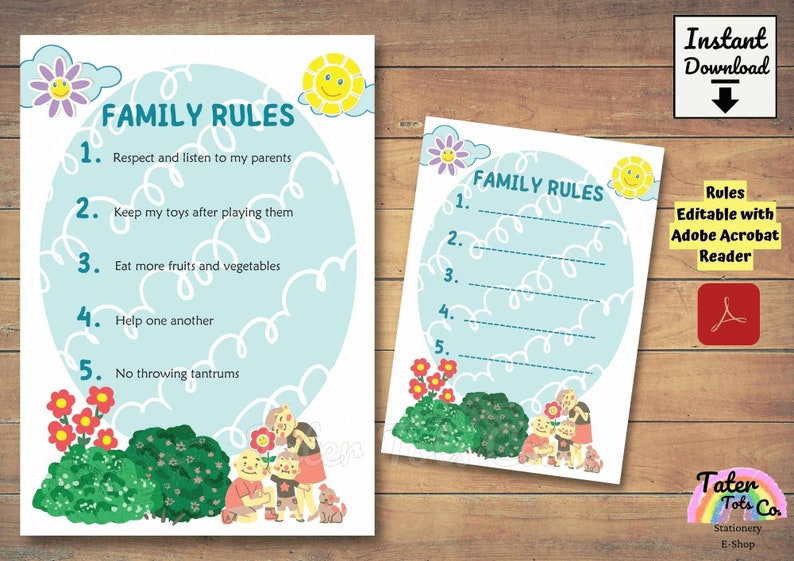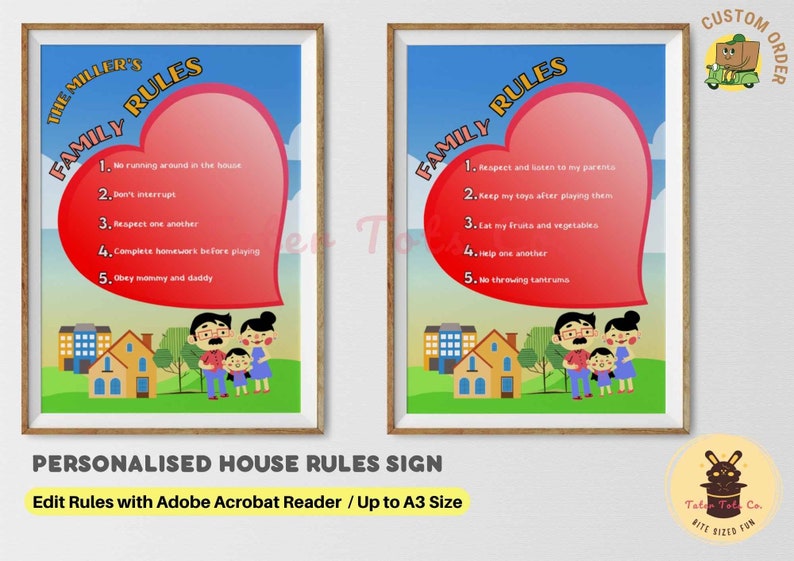 10 Habits Poster Templates for Classroom Management
This is a set of Habit posters designed for classroom or homeschool use. The aim of the habit posters is to inspire children to let them adopt a positive growth mentality and also to practice and learn good habits.
This pack has 6 templates each with 10 default habits for kids to learn and follow. They are suitable for preschool and elementary school and can be used as a classroom management tool. There is also a custom template that you can use to fill in your own custom habit quotes.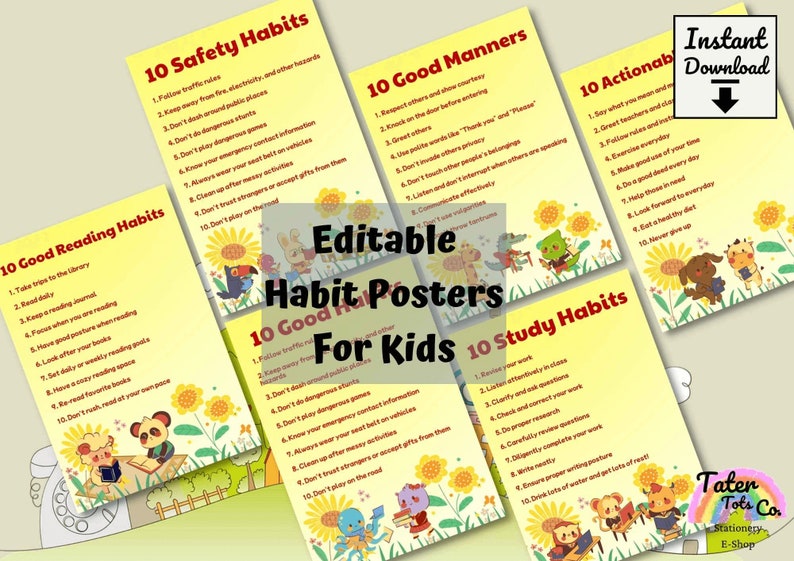 Free Family Rule Poster (A4 size) Download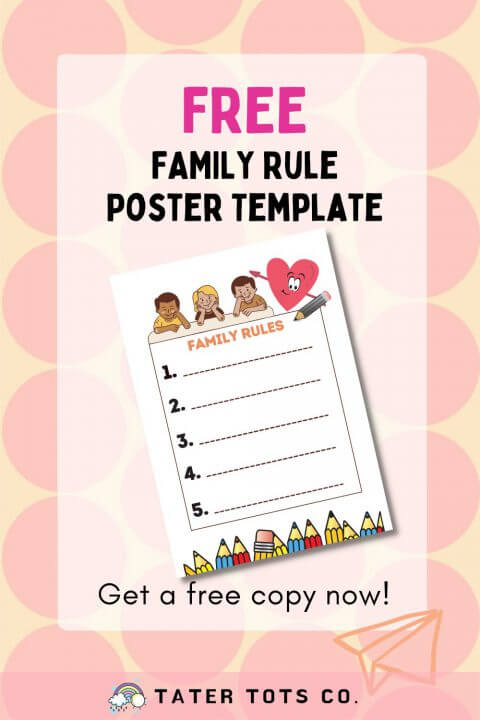 Conclusion
Instead of using corporate punishment or time-outs, why not try creating rules for toddlers in a playful way. You can complement rules together with a toddler reward chart.
If your child follows the rules they can get a nice reward. This will ensure that your toddler is happy to follow the rules.
Do note that the above post is just a general guideline for setting rules. You can set important rules for your child to follow depending on your family values and child's need.
What other examples of rules for kids do you use? Leave your comments in the section below!
Guide in using LibreOffice to edit printables
We've included a YouTube guide on how to edit PDF printables for free using LibreOffice software. This can be used for the poster printable or any other downloadable printable or learning resources from the internet if you want more advanced options to customize them on your own.

LibreOffice is a free software that can be used free offline as an alternative for Adobe Acrobat Pro DC Reader.
Some useful functions include,
Simple edits drag block by block content
Remove/Edit/Add images
Remove/Edit/Add text
Export back as a PDF file
However, when using LibreOffice all default text formatting will be gone but you can use your own fonts
If you're looking for other Toddler Activity Ideas and printables, you can visit the site's section on Toddler Activity Ideas.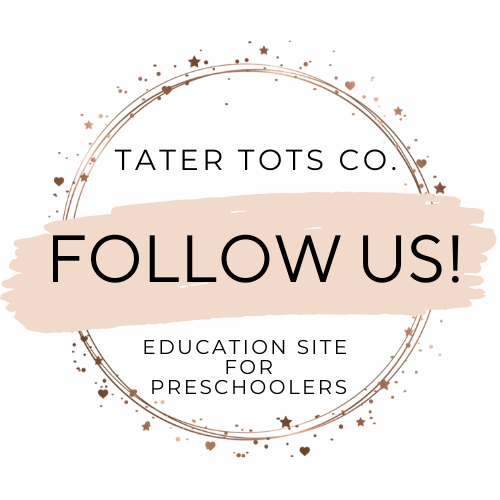 Follow us on Facebook/Pinterest for latest blog updates, freebies and Ukulele printables.
Warmest Regards,