(Last Updated On: September 1, 2023)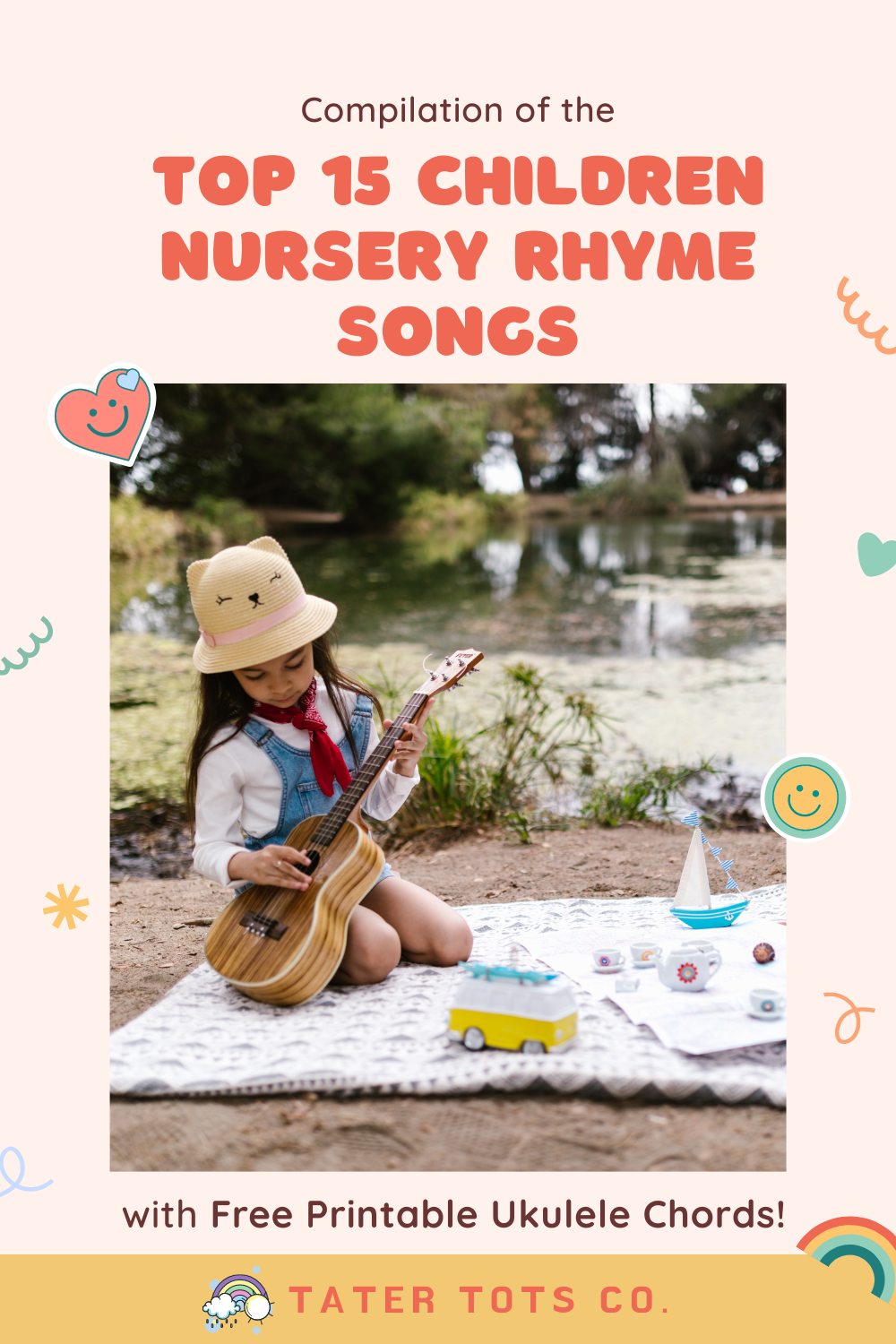 Introduction
Are you looking for nursery rhymes to keep young kids engaged? Why not play nursery rhymes with the Ukulele – it's so easy to play with only a few chords, anybody can learn how to play these simple songs.
Look no further. Here's a list of our most popular Top 15 Children Nursery Rhyme Songs all with free printable Ukulele Chords!
When using the Ukulele music sheets, look out for the strumming pattern and we've provided a short description of each song for activity inspiration. The strumming pattern is only for your reference, as you may have your own variation of strumming.
** IMPORTANT NOTE: PLEASE USE THEM FOR YOUR PERSONAL OR CLASSROOM USE, THE CONTENT IS STRICTLY COPYRIGHTED BY TATER TOTS CO. 2023, PLEASE DO NOT DISTRIBUTE OR SHARE THEM. INSTEAD LINK OTHERS TO THIS SITE DIRECTLY.
Please read our page on Terms of Use for further details.
We'll keep releasing free printable Ukulele music sheets monthly so be sure to follow or subscribe to us for more content.
For more Ukulele free printables visit our section on Super Simple And The Best Ukulele Songs For Kids
Want to learn how to play Super Simple Children Songs with the Ukulele? Start your musical journey here.
Read the article here on Ukulele for Kids (A Complete Beginner's Introduction)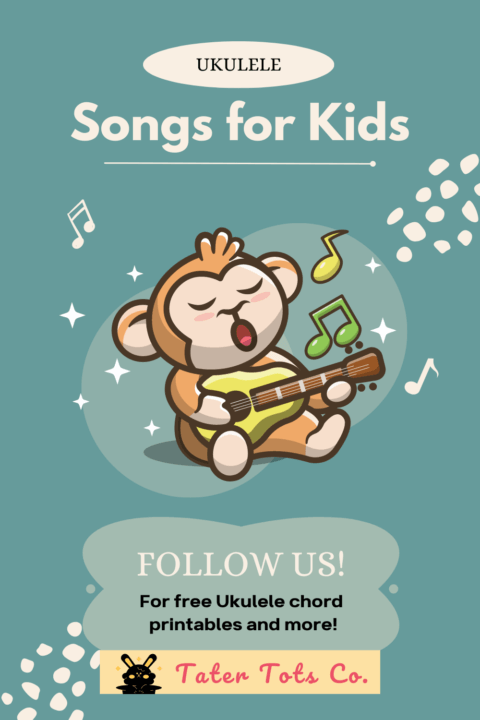 #1 Twinkle, twinkle little star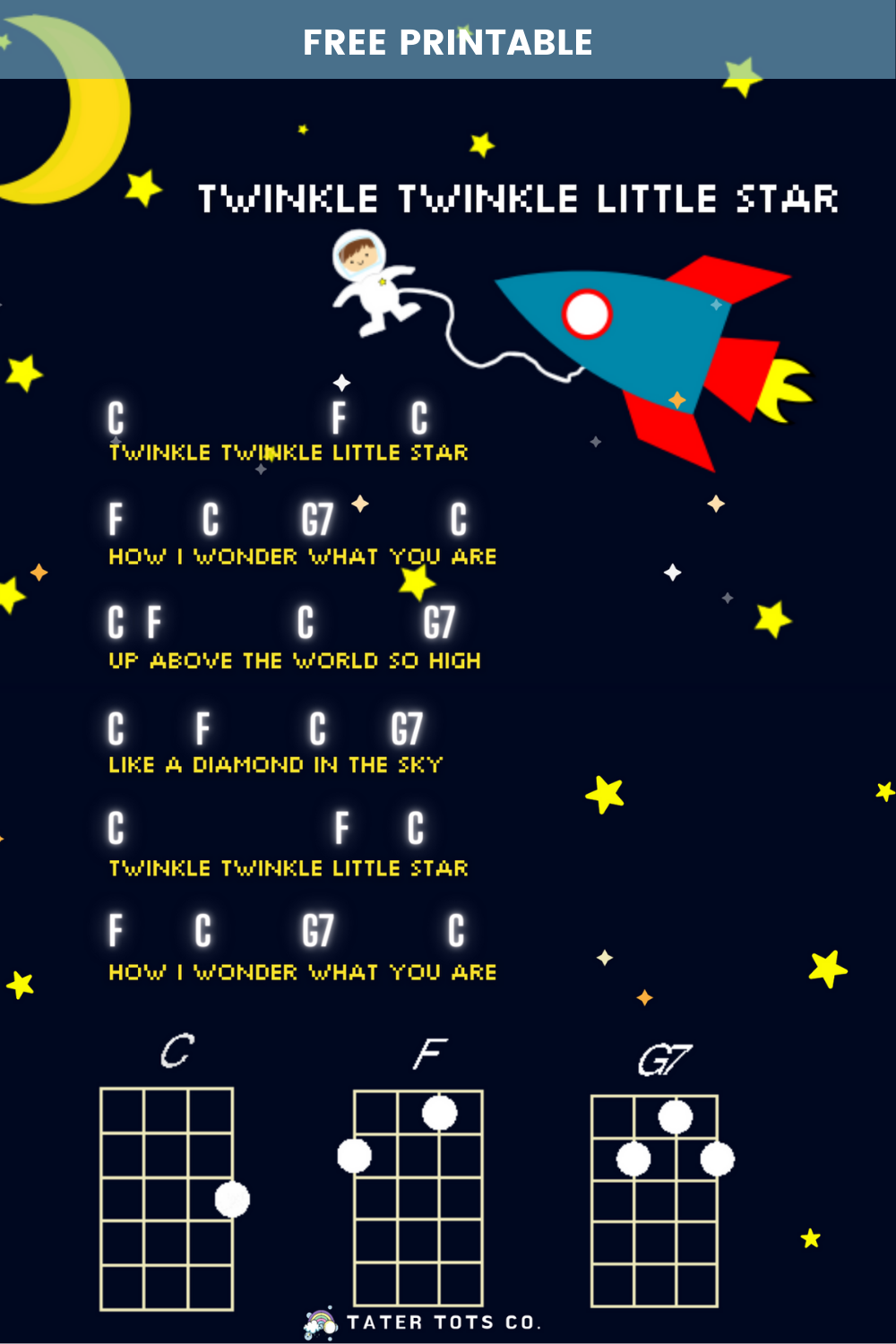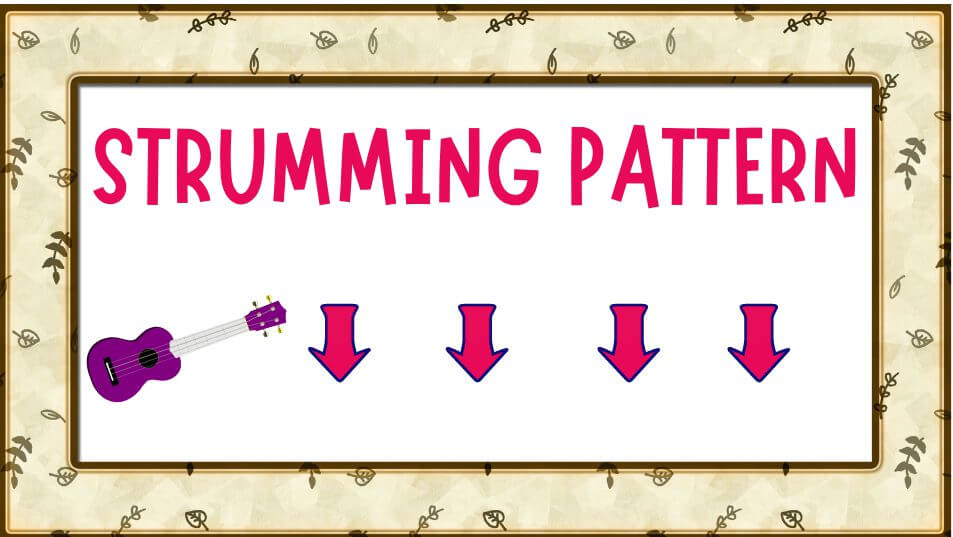 Twinkle, twinkle little star is a lullaby that every child would certainly grow up knowing. It's a slow tune that helps to calm down little ones, keeping them relaxed or putting them to sleep.
Play it and sing it slowly with each strum of the ukulele.
#2 Happy Birthday To You
An easy song to play for parties and for children who love dramatizing. A birthday song is a must play and a great addition for birthday parties and cute, special occasions.
#3 Rock A bye Baby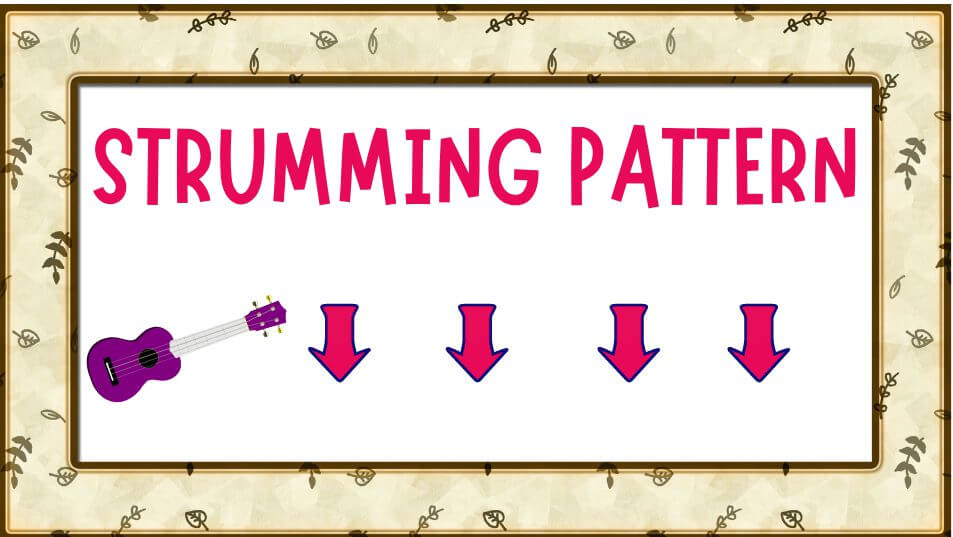 Rock A Bye Baby has a very calm and relaxing tune, guaranteed to soothe little ones. It's so easy to play with just 2 chords and the best way is to play it real slow while your child embraces themself in this sweet song.
#4 ABC Song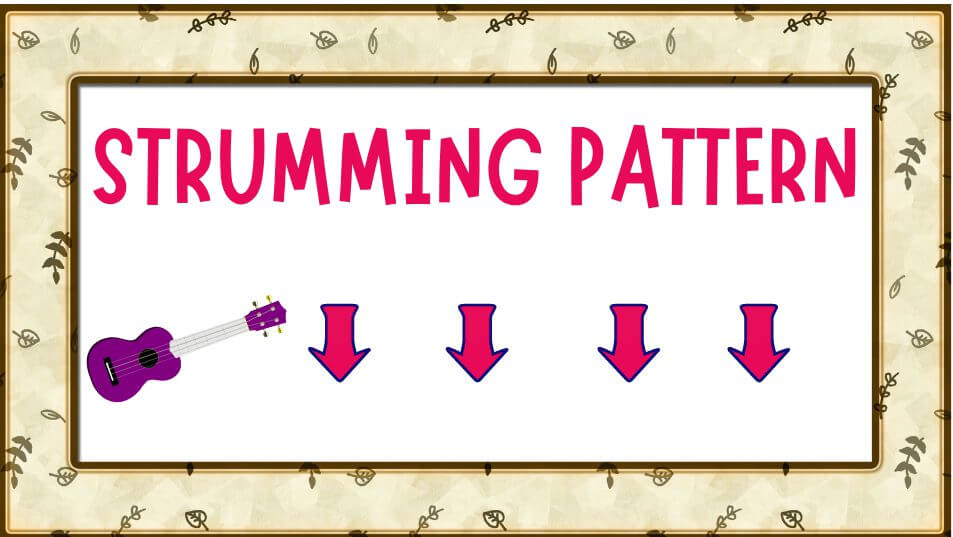 Early learning with the ABC song couldn't be easier! Teach ABCs and alphabets while singing and playing this one with the Ukulele. With only 3 chords, you can play this fast or slow it's really up to you.
#5 You Are My Sunshine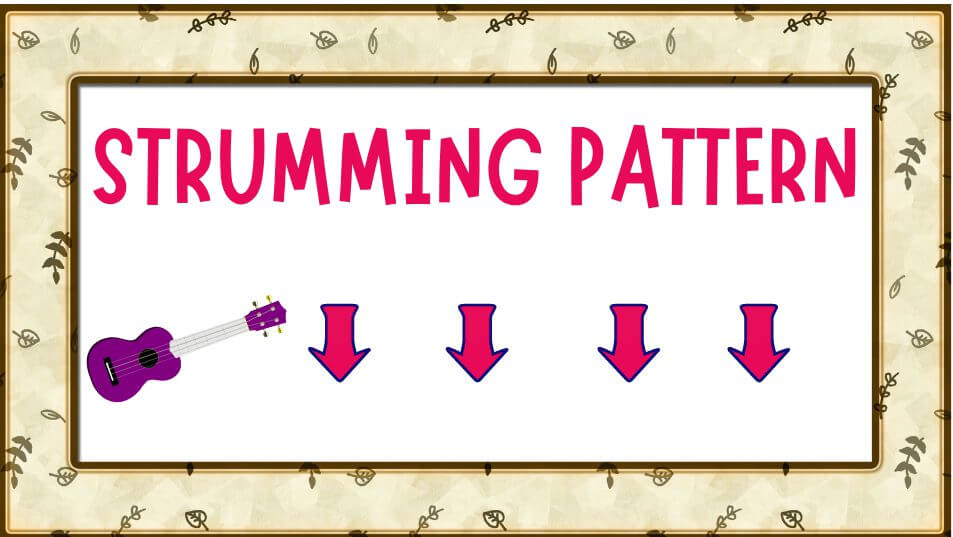 You are my sunshine is a children's classic song. Another super easy to play song with just 3 chords. If you play it slow, use the downward strumming pattern at each beat.
Otherwise, you can play it slightly faster by using the second strumming pattern to create a constantly moving rhythm.
#6 Old Mac Donald Had A Farm
This nursery rhyme classic song can be played over and over again using the following pattern. Keep it upbeat and engaging with different animal variations while kids enjoy dancing to the tune of the song.
#7 Three Blind Mice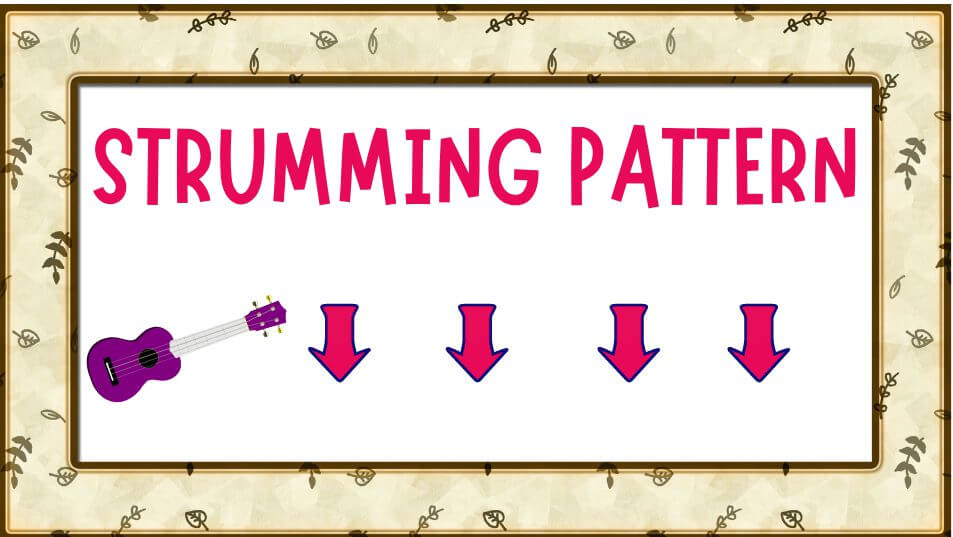 This one's also easy peasy to play slowly. Follow the ukulele chord and strum downwards on each note.
#8 Row Your Boat
Probably the easiest Nursery Rhyme Ukulele song you will ever play – with just 2 chords and a slow-going beat. You can strum at regular intervals or once on each sentence at a time and this song will sound just as dreamy and nice.
#9 Down By The Bay

Play around with different variations instead of ".. Did you ever seen a bear combing his hair",
Did you ever see a goose, kissing a moose?
Did you ever see a llama, eating his pajamas?
Did you ever see a whale, with a polka-dot tail?
Did you ever see a fly, wearing a tie?
Did you ever see a pig, wearing a wig?
#10 Mary Quite Contrary
Mary, Mary quite contrary is a cute little sweet song for the young ones especially suited to girls.
You can play it slow (use a downward strumming pattern on each beat) or play it fast (use the second strumming pattern) to create a rhythmic tune.
#11 If You're Happy And You Know It

This song will keep kids happy and in a jolly good mood when they hear it. Instead of ".. Clap your hands" try changing it to…
Stomp your feet
Spin around
Shout Hurray
Do all three
#12 The Wheels On The Bus
The Wheels on the Bus is a classic nursery song that all kids love singing. With only 2 chords, play it with the indicated strumming pattern and instead of ".. wheels on the bus, go round and round" you can change it to…
Baby on the bus goes "Waaa.."
Bell on the bus goes "ding-ding-ding"
The horn on the bus goes "Beep, beep, beep"
Daddy on the bus goes "I love you"
#13 Itsy Bitsy Spider
Another super easy Nursery Rhyme song – with just 2 chords you can play it slow and steady making it a nice relaxing and soothing lullaby song.
#14 My Bonnie Lies Over the Ocean
My Bonnie Lies over the Ocean is a children's folk song. Play this slow to give a slow and melodic rhythm.
#15 Skip To My Lou
Skip to the Lou works great as a toilet or potty training song – encouraging young kids to make their way to their potty or bathroom. It's a catchy tune that young children can easily learn.
Conclusion
Whether you're playing for kids or for fun, playing with the Ukulele is both entertaining and fun. These fun and catchy tunes will certainly liven things up and make activities like circle time or bonding time engaging.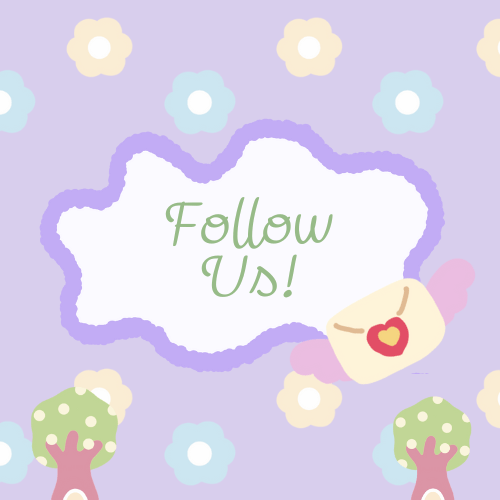 Follow us on Facebook/Pinterest for the latest blog updates, freebies, and Ukulele printables.
Warmest Regards,