(Last Updated On: December 21, 2022)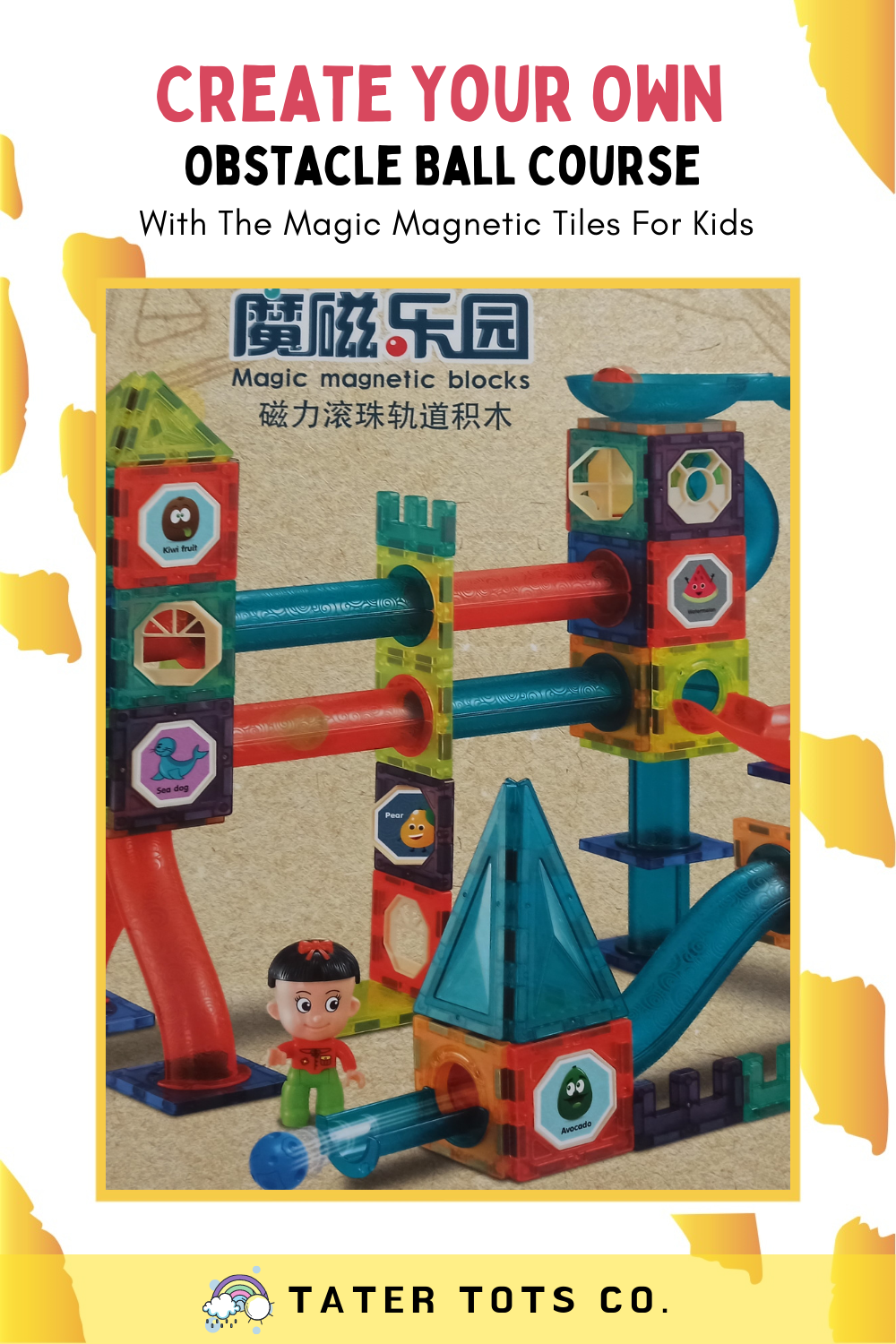 Create Your Own Obstacle Ball Course With The Magic Magnetic Tiles For Kids
Introduction
The Magic Magnetic Tiles for kids is yet another awesome and engaging STEM toy that is suitable for toddlers ages 3 and above. We would highly recommend this stay home toddler activity to occupy your child with. With so many similar products and variations sold in the market, it's difficult to make a decision on which to buy. We have researched other magnetic block STEM Toys and there're some really popular ones like Magna Tiles or ACTRINIC Kids Magnet Tiles. However, in this post, we're introducing a different high-quality Magnetic Tile product which is not just a fun DIY Magnetic Building Block but so much more with unique luminous tiles, options for illumination, and tunnel pieces to make exciting marble ball runs.
This set of Magnetic Tiles for kids is high quality, non-toxic and inexpensive and there are many to choose from. Read more below to find the links on where to purchase it and what makes this toy stand out from other similar products.
How to play the Magic Magnetic Tiles for Kids?
The remarkable thing about this particular product that differentiates it from others sold in the market is the ability to install windows on the tiles. You can paste stickers and spin the windows. The magnetic tiles are colorful, vibrant, and translucent. The set also comes with cute stickers to paste on the rotatable detachable windows of the tiles. In addition, the set comes with 4 marble-like balls. Children can build a ball obstacle race track course which is superbly fun to play with. It is also easy to assemble and dissemble.
I'm not sure if other magnetic block sets come with balls but you can't deny being able to build a race track obstacle course for balls great fun for toddlers. You and your child can create different geometric shapes, models, amusement parks, mazes, castles, houses, towers, slides, obstacle courses and so much more.
This is not only a great STEM learning tool it also encourages actual play. Especially if you don't want your child to be having too much screen time. Such building and learning toys reduce time spent on electronic devices such as TV, gaming, smartphones, and tablets. Since there's a variety of shapes and objects you can make with these building blocks your child will be able to replay this block many times without feeling bored. Other than having an abundance of playability, it exercises children's logical thinking, concentration, hands-on abilities, creativity, brain, and collaboration skills.
What is STEM?
STEM is a mixture of science and mathematics with engineering and technology. It involves introducing children to new concepts through games and activities rather than through reading or textbooks. These concepts relate to real-life problem solving which is practical and realistic. There are many benefits of STEM as it will help early growth, development, and innovation.
The Magic Magnetic Building Blocks STEM Toy has a 3D multi-layer design that allows children to construct their own designs. It has a vast number of benefits as below:
Children can acquire a strong sense of color as they learn architectural design. It trains their logic and thinking skills. This in turn improves their concentration and helps them with brain development. It also improves creativity skills when building their own obstacle racecourse. This promotes problem solving, hand and eye movement and trains their fine motor skills. Apart from these, children also learn science as they learn about gravitational force.
Where to get the Magic Magnetic Tiles for Kids?
There are just so many places you can find this toy in the market. Your local toy store may have these, also Amazon, Shopee, Lazada, and many more.

We have bought both the 66 and 132 pieces sets. It comes in 40/66/75/98/110/128/132/142/150/188/202/252/268/292 pieces. They even come with lights. Below are some Shopee Links of the product
Magnetic Tiles Maze Ball Fun Track Blocks Magnet Funnel Slide Blocks Baby DIY Tracking Building Blocks Educational Toys
Kids Toys Magnetic Tiles Building Blocks Set with Lights Colorful Magnetic Marble Run Balls Educational Toys Gift
Here are some other similar products sold on Shopee and Amazon,
EmmAmy® kids Magnetic Tiles Building Block Set Children Diy Assembling Educational Toys for Baby girls boys

124PCS Magnetic Building Blocks Magnet Tiles Early Educational & Development Toys for 3 4 5 6 7 Years Old Boys Girls Gifts
PicassoTiles 60 Piece Set 60pcs Magnet Building Tiles Clear Magnetic 3D Building Blocks Construction Playboards – Creativity beyond Imagination, Inspirational, Recreational, Educational, Conventional
Magna-Tiles 12148 48-Piece Clear Colors DELUXE Set – The Original, Award-Winning Magnetic Building Tiles – Creativity and Educational STEM Approved
Limmys Magnetic Building Blocks – Unique Construction Toys for Boys and Girls – STEM Educational Toy – Includes 42 Pieces, Idea Book & a Bonus Velvet Drawstring Bag
[amazon_auto_links id="2909″]
Our learning experience
This toy has been entertaining for both kids and adults. We have built various obstacle courses and models. We enjoy playing with these very much.
If you are interested to purchase other similar magnetic tile brands,we would recommend checking out the blog post on "Why you should buy the Best Magnetic Tiles you can afford!" by Mum's Creative Cupboard here which has a summary chart on the features and differences between more popular brands like the Magna Tiles brand and ACTRINIC Kids Magnet Tiles.
Samples of Designs you can make with the Magic Magnetic Tiles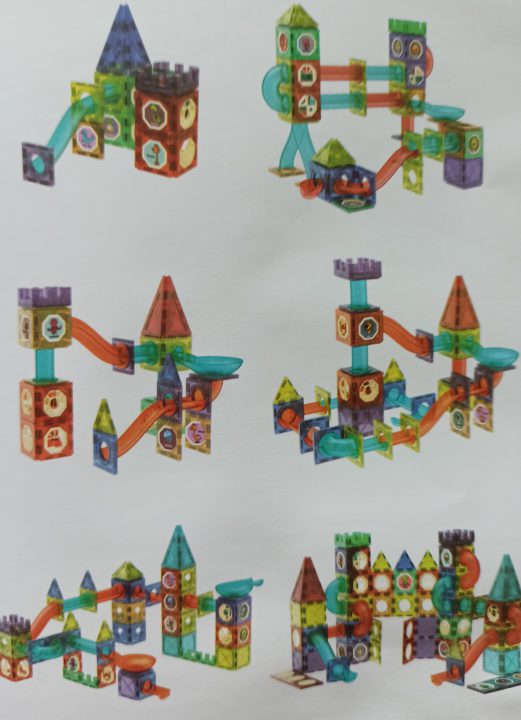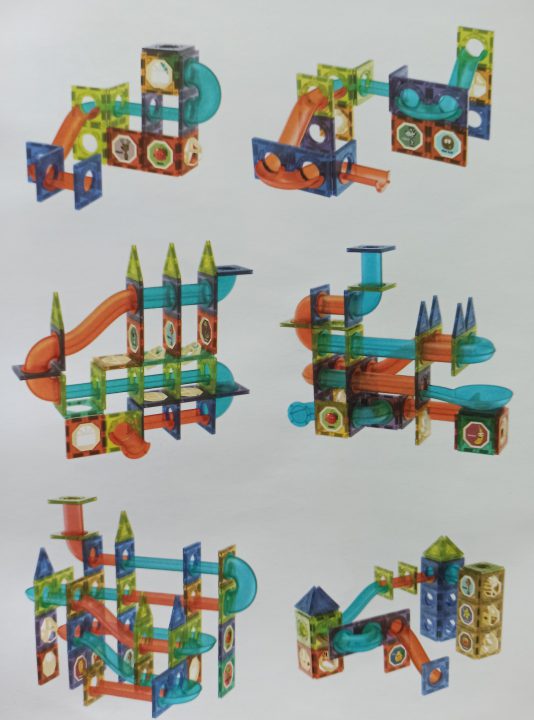 Conclusion
It is so important to purchase high-quality magnetic blocks for your child. The magnetic blocks should be well designed and non-toxic. Similar to this product that I have reviewed, the magnetic block edges should be smooth and round so that it's safe for your child.
This is a perfect gift for any toddler as it's fun, entertaining, educational, and interactive. It's ideal for preschool, kindergarten, group activities for the classroom, or home use.
What is the best brand of magnetic tiles you or your child has played with and why? Share in the comments below!
If you're looking for other toddler activity ideas, you can visit the site's section on Toddler Activity Ideas.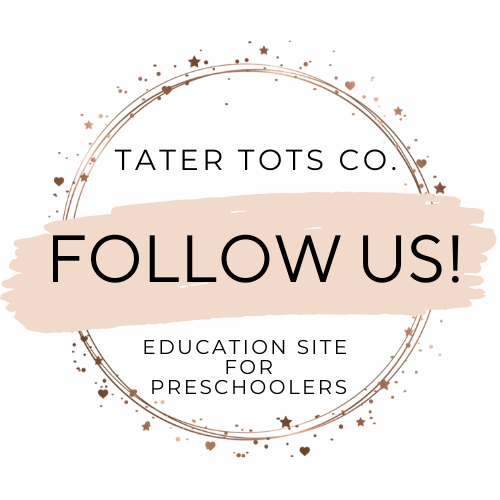 Follow us on Facebook/Pinterest for latest blog updates, freebies and Ukulele printables.
Warmest Regards,