(Last Updated On: April 23, 2022)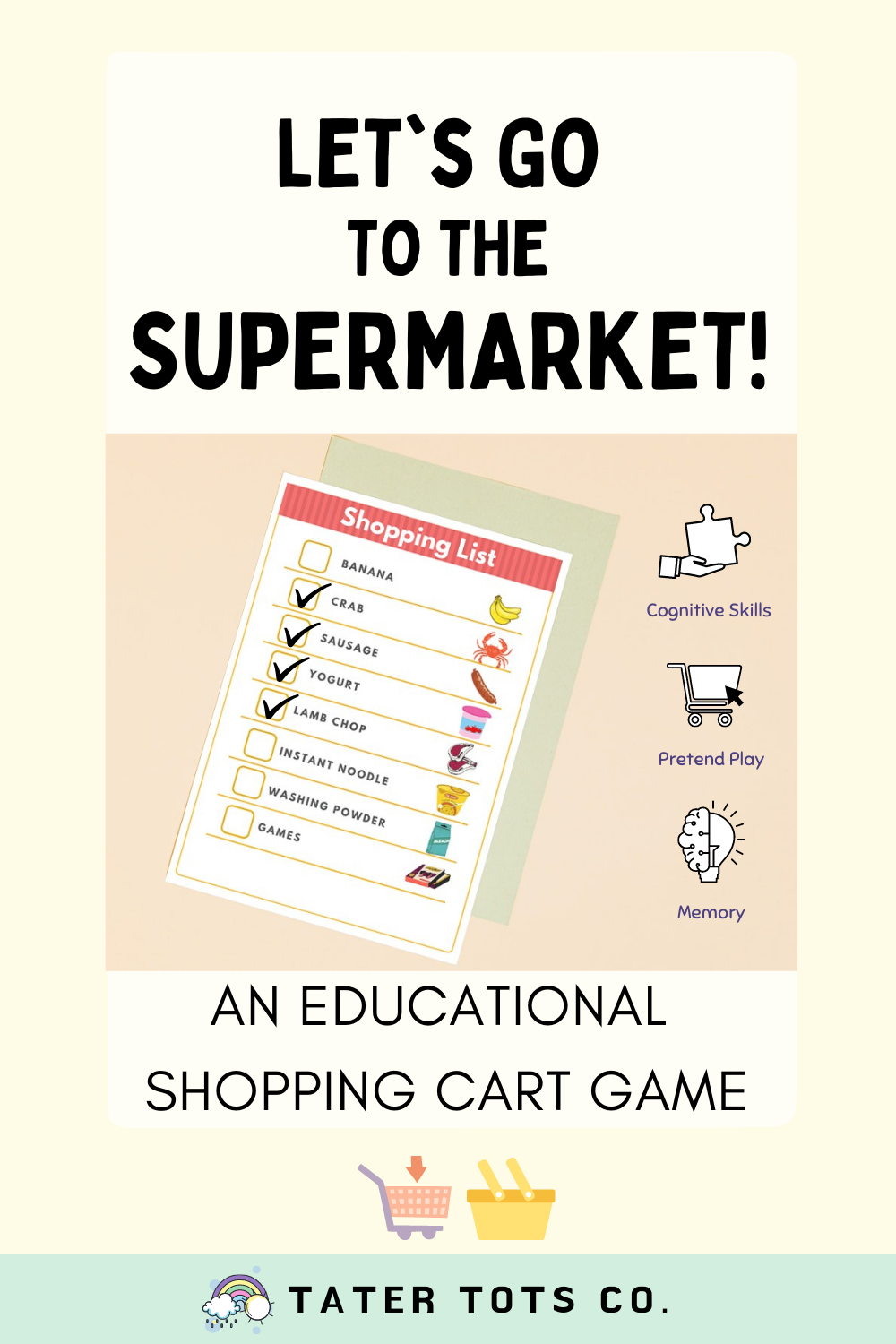 Let's Go To The Supermarket! (Free Printable shopping game for kids)
Let's go to the Supermarket! is a free Educational Shopping Game for kids. It is a great way for your child to learn about the intricate details of grocery list shopping and the supermarket.
Why should your child learn about the supermarket?
This activity will help your child develop important skills like planning, communication, and completing tasks. It familiarizes them with common supermarket items and daily necessities.
Let's make shopping into an educational and essential learning process catered for your child!
Details about the Shopping Cart Game
For this Shopping cart game, this version of the game has been customized to teach my own child about common supermarket items and how a supermarket works. Play it among 2-4 players and it is suitable for ages 2-7.
It is a game that would help to develop memory, personal and social skills.
How to play the Shopping Cart Game
In this game, players can compete to complete their shopping lists. Here's an overview of the items included in this game set and how to play.

1. Shopping Lists
Players have a choice of 7 shopping lists to pick from.
Each list features 8 common supermarket items to observe and discuss.
All shopping lists contain checkboxes beside each grocery item. Conveniently, it is easy for players to keep track of the items collected by simply ticking the checkbox with a whiteboard marker.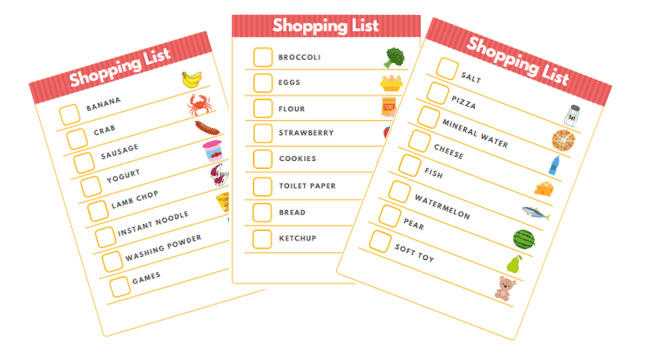 2. Trolleys and Baskets
Players are given a choice of whether they want to use a trolley or basket to fill up their shopping items.

3. Memory Game (for older children above 4 years old)
Test your child's memory!
First, memorize the shopping list.
Next, keep it away followed by a search for the items based on memory.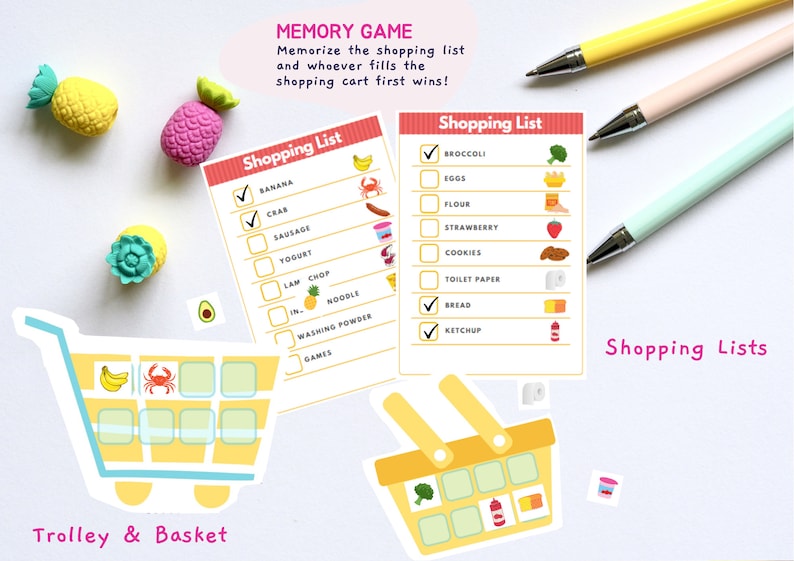 4. Matching Game

In the first variation of the matching game, players can match the items to the labels on the display aisles.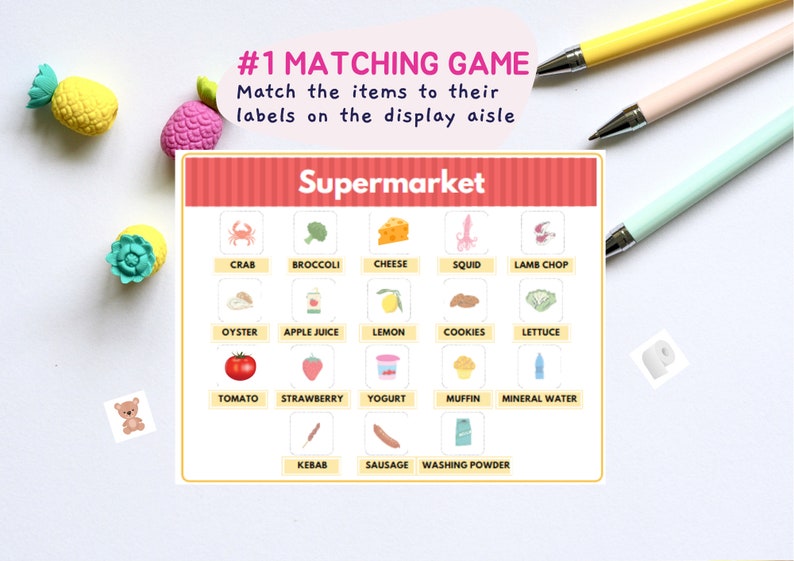 In the 2nd variation, players can match a number of items to the correct merchant stores.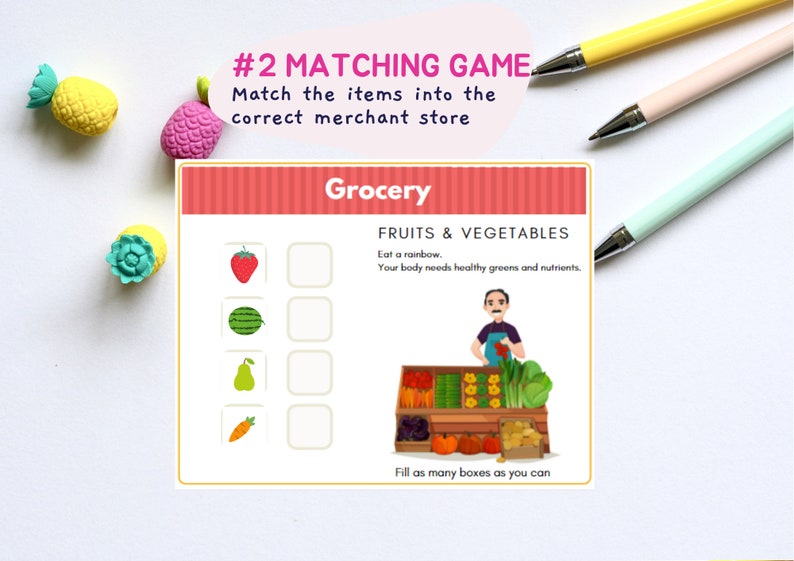 My Learning Experience
My child liked this Educational Game for toddlers and enjoys playing it.
She learned how to categorize and group items according to the merchant stores and learned many new common supermarket items.
First, I gave my child a choice of whether she wanted to use the basket or trolley to collect the items.
Next, I let her choose a shopping list from the 7 available shopping lists.
In preparation, I would place the grocery items on the display aisles or in the merchant stores and lay them down for her to search for the items to place in her shopping cart. After the preparation, we would pretend to go to the supermarket or the merchant stores to search for the items one by one in the shopping list.
My child is no stranger to visiting the supermarket as she follows me to the supermarket all the time. Despite having gone to the supermarket on several occasions, she still doesn't know how to behave. To her, a supermarket is just like a mega playground.
If this sounds all too familiar – your toddler running around crazy in the supermarket trying to get hold of every item that catches their eyes. Or going to the supermarket is like a constant battle and struggle for you as your child has no idea how to behave, it is time to educate your child with the Shopping Cart Game!
Conclusion
As a result of playing this Educational Game for toddlers, I can now confidently say that my child has a clearer idea of what a supermarket is and how to behave.
How can someone survive grocery shopping with a young kid like a toddler? Why are they so hard to control? How can we better teach children about grocery shopping? Leave your comments below!
If you liked the idea of the Shopping Cart Game, you can consider purchasing the digital copy of this Educational Game for toddlers on my Etsy store.
Download
Download this printable FREE!
Provide a valid email so we can send this to you instantly!
By agreeing to download this printable you will automatically be subscribed to our newsletter to get updates on new content, blog posts, videos and other freebies straight to your mailbox.
If you're looking for other toddler activity ideas, you can visit the site's section on Toddler Activity Ideas.
Attribution
All images and content are Copyright Tater Tots Co 2021. Individual merchant store character art is designed by macrovector / Freepik. http://www.freepik.com.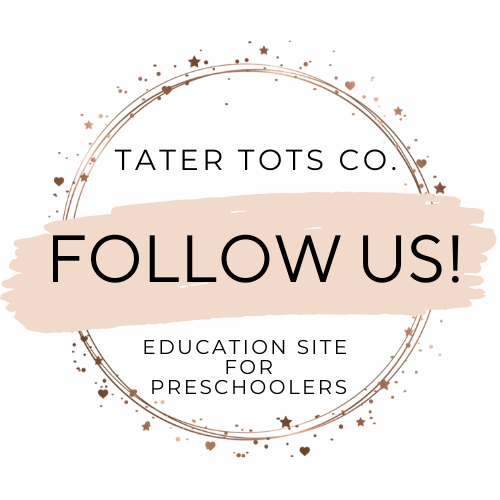 Follow us on Facebook/Pinterest for latest blog updates, freebies and Ukulele printables.
Warmest Regards,