(Last Updated On: December 21, 2022)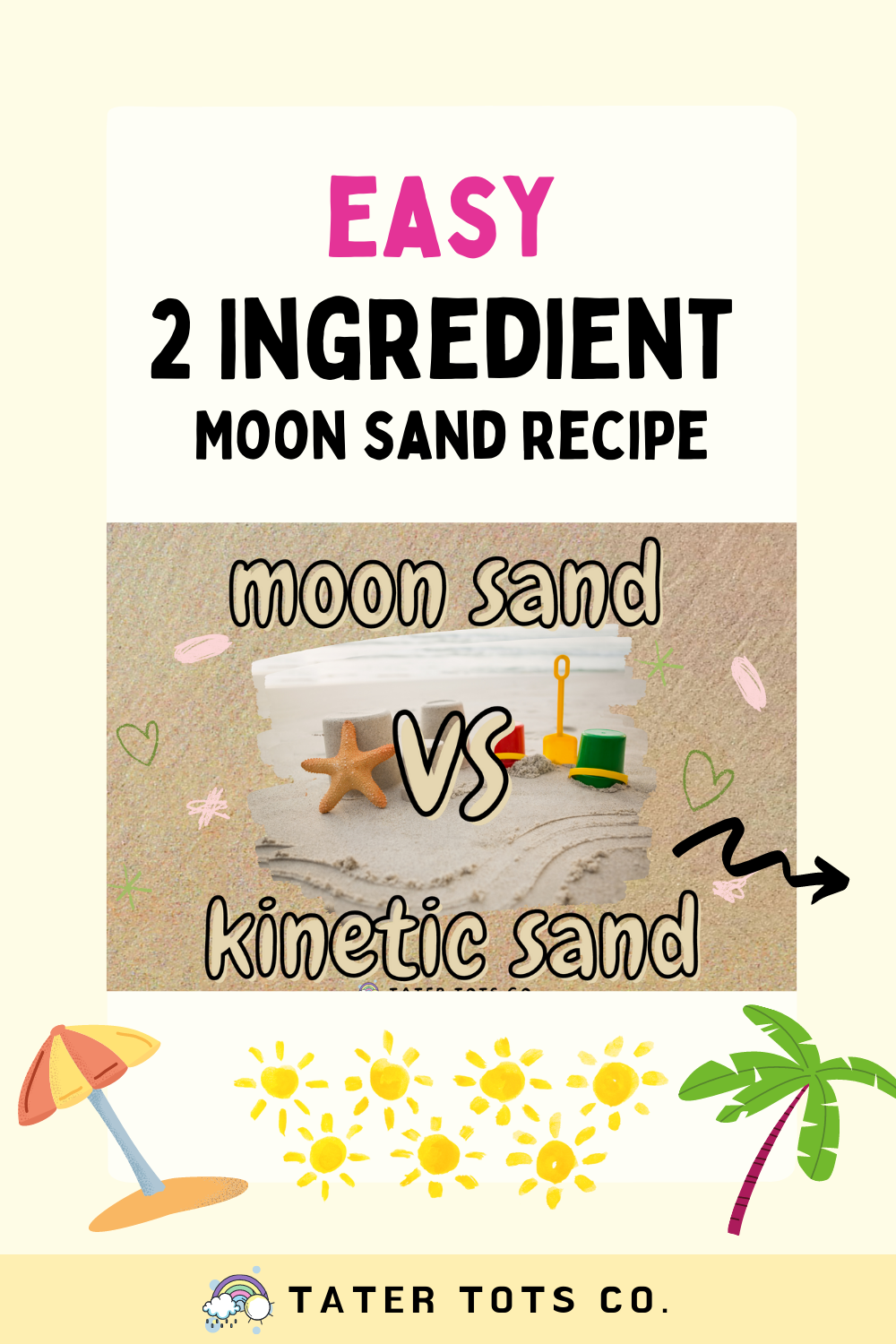 Moon Sand Vs Kinetic Sand: Easy 2 Ingredient Moon Sand Recipe
Introduction
In this article, we will summarize the differences between Moon Sand Vs Kinetic Sand and share an Easy 2 ingredient Moon Sand Recipe. We will also make some comparisons between Homemade Kinetic Sand and Store-Bought Kinetic Sand. Read on to find out more.
Why bother making DIY Moon Sand or even buy or make Kinetic Sand? Some reasons could be that sandy beaches or playgrounds are not exactly plentiful or easily accessible for you and your family. It could also be that you can't find any clean sand around your neighborhood just like in my case. In where we live, we don't really have any nice beaches here with clean white sand and we can't play at playgrounds without sandflies and dirty sand.
During rainy days it's pretty useful to have a "standby sand kit" if your child wants to play with sand at home so they can play it anytime. Either way, you can make DIY Moon Sand or use Kinetic Sand for indoor sand play which will certainly add some extra stimulation and sensory fun to your toddler's daily activities. DIY Moon Sand or Kinetic Sand can also be utilized outdoors if you prefer which may reduce the cleanup required.
Warning! If you're looking for mess-free Moon Sand or Kinetic Sand recipes this is not the place to find them. Sand play no matter what kind of sand is probably messy and will need some amount of cleanup.
What is Moon Sand?
What is moon sand? Moon sand, cloud dough, homemade sand whatever you call it is given its name because it is crumbly in texture and of how similar it looks to the surface of the moon. The consistency of Moon Sand is powdery yet moldable like damp sand. This makes it interesting to use for open-ended play. By the way, if you search for Cloud Dough you may get the recipe for Cloud Dough Playdough instead. Cloud Dough may refer to Moon Sand or the Playdough kind of Cloud Dough. If you're interested in how to make Homemade Cloud Dough (Playdough) you can check out this blog post on the Cloud Dough recipe by The Best Ideas for Kids.
Moon Sand Recipe
Making DIY Homemade Moon Sand is both easy and inexpensive. You just need 2 simple ingredients – All-Purpose Flour and Baby Oil or Coconut Oil. You can watch the video below to see how to make moon sand that can be stored for up to a month in an airtight container. Some other recipes use Cornstarch and sugar in place of Flour. Some other recipes also include essential oils to enhance the sensory experience.
In the video, we used 8 cups of all-purpose flour to 1 cup of coconut oil, which is a good amount of Moon Sand to make for a single play. I used to do some baking and had lots of flour accumulated over the years some of which were expiring hence I decided to try making Moon Sand for my child.
Steps to make Moon Sand,
Scoop and pour the flour into a container
Pour the oil inside
Mix together thoroughly
How to make DIY Homemade Moon Sand Taste Safe
Just some extra things to note about the DIY Homemade Moon Sand is that if you use coconut oil instead of baby oil then it becomes taste safe for your baby. However, flour is still not fully safe to consume as it can still contain bacteria unless you heat it up before use. As always, you will need to constantly supervise your child during sand play.
To make the Moon Sand Taste Safe,
If using an oven
Put the flour on a cookie sheet on a tray and heat for 5 mins at 350 degrees.
If using a microwave
Put the flour in a microwave-safe bowl and heat for 1 min.
In both methods, allow the flour to cool completely before using it.
Sand play ideas
Before playing with the sand, make sure you have something like a tub, bin, container, or tray to contain the sand in it. A container that is shallow in depth would be suitable for sand play. It is better to lay out a mat as even with a tub or container lots of sand is going to fly out of the container that you use. This should save you some headaches during cleanup.
Have lots of interesting and colorful shaping and molding tools like beach toys, cookie cutters, small plastic toys, sand mold structures, spades, and buckets to entertain your child with. Have your child roll, shape, and cut the Kinetic Sand. It helps to develop your child's motor skills, color cognition, and hand-eye coordination.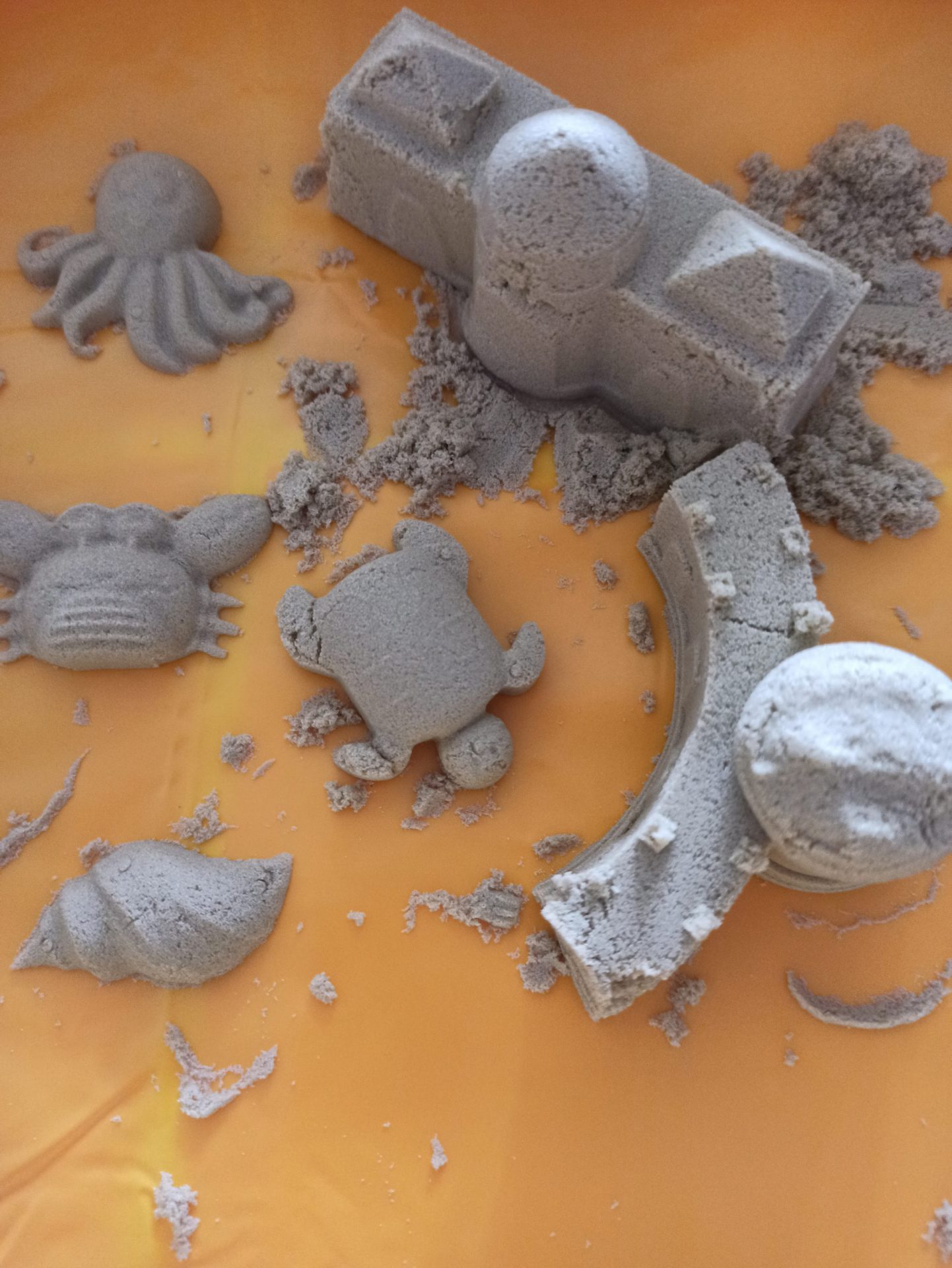 What is the difference between Moon Sand and Kinetic Sand?
Moon sand is smooth to touch because of the oil. It feels silkier rather than slimy. It feels crumbly when broken into pieces. In terms of cost, Moon Sand would be a cheaper alternative to store-bought Kinetic Sand.
Kinetic Sand on the other hand costs around $20 dollars and above dependent on brand and quality per kilogram. It offers a unique sensation, feeling smooth and fluid-like as the sand sticks to itself and moves gently. It feels like ordinary sand yet less grainy, it is also not sticky or wet.
In terms of molding, we felt that Kinetic Sand is definitely easier to play with. Moon Sand can be too crumbly in texture. Some may like the extra oiliness due to the oil used however I did not quite like the oily feeling. Exert too much pressure and Moon Sand crumbles easily making it difficult to cut out shapes or hold them together. Kinetic Sand, on the other hand, holds well together and produces a solid shape. It can easily be used with molds, containers, cutters, and shapes.
Summary of Moon Sand vs Kinetic Sand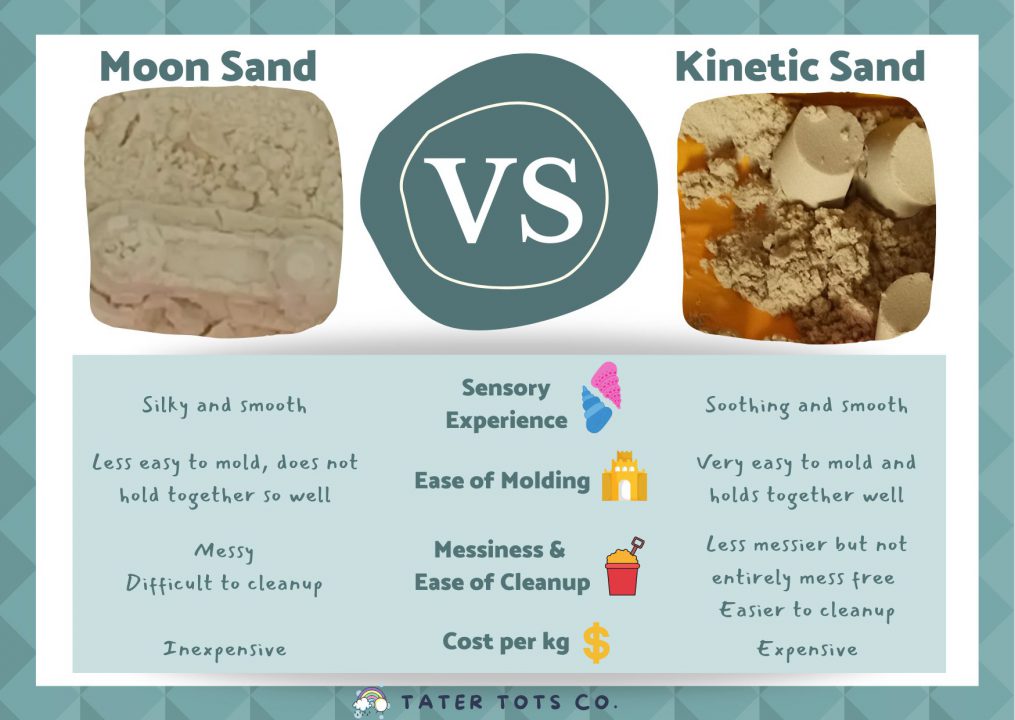 Tips for Cleanup
If you're playing sand indoors, it could provide your child with hours of entertainment. Before playing sand, be sure to lay a mat or table cloth on the floor to contain the sand. After the activity, the sand can be collected easily for reuse or disposal.
Whether you use Moon Sand or Kinetic Sand you would still require some cleanup after the activity. In the case of Moon Sand, we found the cleanup quite a handful indoors. The Moon Sand easily splatters across the ground or tabletop. It also easily sticks to your hands and makes your hands, the floor, and sand tools oily.
Links to purchase Kinetic Sand
You can find the link to the Kinetic Sand kit that I bought from Shopee here which is Non-Toxic,

2kg Kinetic Play Sand Kits with 72pcs Tools Set Space Magic Activities Sands for Kids Children Toy
You can also find the same set on Amazon here from the same Seller:

Other Types of Kinetic Sand
National GeNational Geographic NGSANDSP2 Sparkling Play Sand, 2 lbs, Purple (this looks great, sparkling, good quality, and all but rather expensive)
Kinetic Sand, Sandisfying Set with 2lbs of Sand and 10 Tools, Play Sand Sensory Toys for Kids Ages 3 and up
Kinetic Sand Kinetic Sand FOLDING SANDBOX,Multicolor
Kinetic Sand 6054245 Seashell Container with 127g Neon Pink and Kinetic Beach Sand, for Kids Aged 3 and Up, Multicolour
Homemade DIY Kinetic Sand
If interested to make your own Homemade DIY Kinetic Sand you can refer to the following blog posts for the sample recipes.
How to make Homemade Kinetic Sand by Little Big Happy Things
DIY Kinetic Sand Recipe by Fun with Mama
[amazon_auto_links id="2901″]
Conclusion
To save you some headache and time during cleanups, we would highly recommend using Kinetic Sand instead of making DIY Moon Sand as it's way easier to clean up. Also if you want to make Kinetic Sand, we have looked through various Homemade Kinetic Sand recipes and found that in terms of sustainability, quality, and messiness level store-bought Kinetic Sand is probably a much better option. It can also last longer. For Kinetic sand homemade recipes, there are many different recipes to try out. Our take is you probably need more time to experiment them out to find out which recipes work well for you.
So save yourself time, pay more for quality. At least Store-Bought Kinetic sand will not stick on your hand and is less messy. When selecting a suitable store-bought Kinetic Sand Kit, you should make sure that the sand is Non-Toxic and Safe. The tools that come with the sand kit (if there are any) should be also Non Toxic and made of BPA-free plastic with smooth and rounded edges that are safe for toddlers.
Although Kinetic Sand is not entirely mess-free, it is still 10 times easier to clean and a great option for home use which could keep your child entertained for hours. However, if you are looking for a mess-free option then sand play is not recommended as no matter what kind of sand you play with there is definitely some cleanup involved even if the product states that Kinetic Sand is mess-free. Whether you want to use Moon Sand or Kinetic Sand it is a personal preference. Most importantly have fun enjoying sand play with your child!
Do you prefer to make your own sand or buy it and why? Share your comments below!
If you're looking for other toddler activity ideas, you can visit the site's section on Toddler Activity Ideas.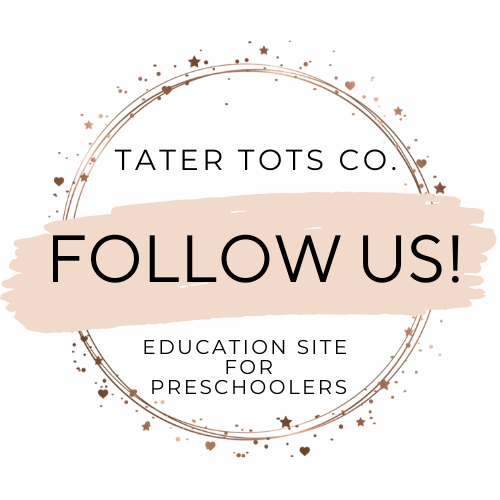 Follow us on Facebook/Pinterest for latest blog updates, freebies and Ukulele printables.
[amazon_auto_links id="5187″]
Warmest Regards,